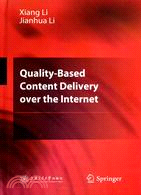 基於品質的互聯網內容傳輸技術(英文版)(簡體書)

ISBN13:9787313067166
出版社:上海交通大學出版社
裝訂:精裝
規格:26cm*19cm (高/寬)
出版日:2011/04/28
促銷優惠:簡體曬書區--熱賣中

簡體分類
:
工業技術
>
無線電電子學、電信技術
>
通信
>
數據通信
人民幣定價:59元
定 價:NT$354元
可得紅利積點:5 點
庫存:4
《基于質量的互聯網內容傳輸技術(英文版)》內容簡介:Qua\ity-Based Content Delivery over the Internet mainly discusses themethodology of doing quality-based content delivery in an Internetenvironment. Because the network is becoming intelligent and active, moreand more researchers are talking about achieving personalization andcustomization in Internet content delivery. As researchers are aware, byintroducing intelligence into a web intermediary server, they can make thecontent delivery more efficient and of higher quality. Still, the detailedmethodology of doing so is never illustrated fully. The most critical part willbe the active content transformation model. "[his book gives a detaileddescription of the active content transformation model, and providesexperiments and data to show its feasibility. Some examples of how to doefficient content transformation in active web intermediarv to achieve highquality are also presented to help understand the whole process.The book is an introduction and excellent reference for researchers in theInternet content delivery area.
《基于質量的互聯網內容傳輸技術(英文版)》由上海交通大學出版社出版。
1 Introduction
1.1 Background
1.2 Challenges
1.3 Research Topics
1.4 Focus of This Book
1.5 Book Outline

2 Related Work
2.1 New Challenges to Web Content Delivery
2.2 Overview of Active Network
2.3 Basic Technologies in Active Network
2.3.1 Basic Proxy Caching
2.3.2 Transcoding for Pervasive Intemet Access
2.3.3 Adaptive Content Delivery
2.4 Adaptive Web Content Delivery Systems Built
2.4.1 IBM's Transcoding Proxy
2.4.2 Berkeley's Pythia and TranSend
2.4.3 Rice's Puppeteer
2.5 Special-Purpose Proxies
2.5.1 Compression Proxy
2.5.2 WAP Gateway
2.5.3 Single Point Transform Server, ASP
2.5.4 Blocking and Filtering
2.6 Analysis of Existing Adaptive Content Delivery Frameworks and Systems
2.7 Summary
References

3 Chunk-Level Performance Study for Web Page Latency
3.1 Introduction
3.2 Basic Latency Dependence Model
3.3 Web Page Retrieval Latency
3.4 Experimental Study and Analysis
3.4.1 Experimental Environment
3.4.2 Web Page Latency Breakdown
3.4.3 Object Retrieval Parallelism
3.4.4 Definition Time and its Rescheduling
3.5 Discussion about Validity of Observed Results Under Different Environments
3.6 Conclusion
References

4 Accelerating Web Page Retrieval Through Reduction in Data Chunk Dependence
4.1 Introduction
4.2 Pre-requistes for Rescheduling of Embedded Object Retrieval
4.3 Intra-Page Rescheduling for Web Page Retrieval
4.3.1 Object Declaration Mechanism (OD)
4.3.2 History-Based Page Structure Table Mechanism (PST)
4.3.3 Analysis of Object Declaration and History-Based PST Mechanisms
4.4 Experimental Study
4.4.1 Potentials of Push-Forward and Parallelism Effect in Web Page Retrieval
4.4.2 Effect of Object Declaration Mechanism
4.4.3 Effect of History-Based Page Structure Table (PST) Mechanism
4.4.4 Effect of Integrated OD and PST Mechanism
4.5 Conclusion
References

5 Modes of Real-Time Content Transformation for Web Intermediaries in Active Network
5.1 Introduction
5.2 Basic Web Content Transformation Model
5.3 Modes of Content Transformation on Streaming Web Data
5.3.1 Byte-Streaming Transformation Mode
5.3.2 Whole-File Buffering Transformation Mode
5.3.3 Chunk-Streaming Transformation Mode
5.4 Discussion of the Impact of Transformation Mode on Web Page Latency
5.5 Experimental Study
5.5.1 Regrouping and Push-Backward Effects on Object Perceived Time
5.5.2 Regrouping and Push-Backward Effects on Page Retrieval Time
5.5.3 Regrouping and Push-Backward Effects in the Presence of Proxy Cache
5.6 Conclusion
References

6 System Framework for Web Content Adaptation and Intermediary Services: Design and Implementation
6.1 Introduction
6.2 Basic Proxy Cache
6.2.1 DataFlow Path of Proxy Cache
6.2.2 DataFlow Path in SQUID Proxy Cache
6.3 Four-Stage AXform Framework
6.3.1 Stage 1 of AXform Framework: Client Request Stage
6.3.2 Stage 2 of AXform Framework: Server Request Stage
6.3.3 Stage 3 of AXform Framework: Server Data Stage
6.3.4 Stage 4 of AXform Framework: Client Data Stage
6.3.5 Summary
6.4 System Implementation Considerations for AXform Framework
6.4.1 Handling of Working Space
6.4.2 Accessing Other System Resources
6.4.3 Client Information Collection
6.4.4 Server Information Collection
6.4.5 Environment Parameters Collection
6.4.6 Client Request Modification
6.4.7 HTTP Reply Header Modification
6.4.8 HTTP Body Modification
6.4.9 Cache Related Module
6.5 Conclusion
Reference

7 Conclusion
7.1 Conclusion of the Book
7.1.1 Performance Model
7.1.2 Improving the Delivery by Reducing the Object Dependence
7.1.3 Transformation Model
7.1.4 System Framework and Requirements
7.2 Future Research
7.2.1 APIs Definition
7.2.2 Unified Data Format
7.2.3 Data Integrity and Security
7.2.4 Protocol Design
Index
In developing the transformation proxy, it is better to make the transformer modular.Hence, one should avoid modifying the working mechanism of the original proxy cacheas much as possible. However, to further utilize the cache system provided by the proxy,we might need to make some modification to the cache related module. There are twokinds of such cache related modules, one for the cache control module and the other forthe cache hit/miss check module. Each of these modules will be discussed below.6.4.9.1 Cache Control ModuleThe cache control module is used by the proxy cache to determine whether the HTTPreply is cacheable. It is triggered between Stage 3 and Stage 4. As we discussed inthe modification of HTTP header, the transformation proxy might sometimes need tooverwrite the rules set by the original server for better caching. This can be done bymodifying the HTTP reply header. But this solution might have undesirable side effects.With the cache control header modified, all the clients and the downstream proxies willget the revised cache control information. There is no way for them to differentiatewhether this rule is set by the original server or by the transformation system. Thismight affect the caches of the clients and downstream proxies. An alternate solution isto modify the cache control module. By applying new rules to the cache control module,we can control the cache management of this working system and at the same timelimit the effect to this system only. For this solution, we need to know the side effect ofdeploying new rules and make sure it will not malfunction.
購物須知
為了保護您的權益,「三民網路書店」提供會員七日商品鑑賞期(收到商品為起始日)。
若要辦理退貨,請在商品鑑賞期內寄回,且商品必須是全新狀態與完整包裝(商品、附件、發票、隨貨贈品等)否則恕不接受退貨。
大陸出版品因裝訂品質及貨運條件與台灣出版品落差甚大,除封面破損、內頁脫落等較嚴重的狀態,其餘商品將正常出貨。
無現貨庫存之簡體書,將向海外調貨:
海外有庫存之書籍,等候約20個工作天;
海外無庫存之書籍,平均作業時間約45個工作天,然不保證確定可調到貨,尚請見諒。