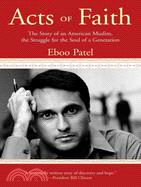 Acts of Faith: The Story of an American Muslim, The Struggle for the Soul of a Generation

ISBN13:9780807077269
出版社:Beacon Pr
作者:Eboo Patel
裝訂:精裝
出版日:2007/07/11
定 價:NT$803元
可得紅利積點:19 點
無庫存,下單後進貨(等候期約30-45個工作天)
"Acts of Faith, a beautifully written story of discovery and hope, chronicles Dr. Eboo Patel's struggle to forge his identity as a Muslim, an Indian, and an American. In the process, he developed a deep reverence for what all faiths have in common, and founded an interfaith movement to help young people to embrace their common humanity through their faith. This young social entrepreneur offers us a powerful way to deal with one of the most important issues of our time." —President Bill Clinton

The lessons we learn when we are young, Eboo Patel writes, determine the commitments we carry the rest of our lives. Even so, many organizations only pay lip service to the importance of youth programs; few devote substantial time and effort to them.

But there is a segment of our world that fully understands that young people are a combustible combination of power and fragility. Preachers in the bigotry-driven Christian Identity movement pay special attention to young people. Yitzhak Rabin's assassin was a twenty-five-year-old observant Jew. Muslim extremists run madrasas with the clear-cut goal of teaching youth that violence is the answer. Youth programs are the focus of the institutions created by these religious totalitarians and at the center of their strategies. All too often, young people are the perpetrators of the devastating acts of violence that define these groups.

Acts of Faith interweaves accounts of how religious totalitarian groups engage youth with Patel's own story of growing up Muslim and angry in America. His unique understanding of the importance of positively engaging religious youth led him to found the Interfaith Youth Core, an energetic organization that seeks to counter religious totalitarianism by building an interfaith, pluralistic youth movement. Addressing the key questions of this emerging movement, Patel shows us how to engage religious conservatives and, most importantly, how to positively focus the fires of youth.

"Eboo Patel is an exciting new voice of a new America. Diverse but not divisive, hopeful but not utopian. He is an American Indian whose roots are not in South Dakota but in South Asia, and he speaks for all of us from a rising generation of bright, brown and bold Americans who have much to offer a country embarking on a new millennium and in need of new blood." —Shaykh Hamza Yusuf, executive director of the Zaytuna Institute

"Eboo Patel has crafted an elegantly written and brilliantly argued manifesto -- a call to arms, really -- about the importance, not of interfaith dialogue, but of interfaith cooperation. His thesis is simple: children are not born to hate; hatred is taught to them. And in a time when religion is used increasingly to justify bigotry and violence, it is up to people of faith everywhere who believe in peace, and tolerance, and pluralism, to stand up to those who preach hatred in the name of God. Acts of Faith is more than a book, it is an awakening of the mind. It should be required reading for all Americans." —Reza Aslan, author of No god but God: The Origins, Evolution, and Future of Islam

"Religious pluralism is one of the greatest challenges facing the world today. Acts of Faith is the inspiring story of Eboo Patel's own life journey and his vision in creating an interfaith youth movement. He shows how educating a new generation to reject religious intolerance and work for the common good is the only way the world can avoid growing fanaticism and violence. This hopeful book shows the power that is waiting to be engaged for a better future. I highly commend it." —Jim Wallis, author of God's Politics: Why the Right Gets It Wrong and the Left Doesn't Get It

"A remarkable book by a young Muslim and a Rhodes Scholar with a vast spiritual vision: a future in which young people join hands in service across the lines of religion. Refreshing, honest, and hopeful, it will speak to the soul of a generation yearning for a new way ahead. Give it to eveery young person in your life—and to yourself." —Diana Eck, author of A New Religious America: How a 'Christian Country' Has Become the World's Most Religious Diverse Nation

Eboo Patel, Ph.D., is the founder and executive director of the Interfaith Youth Core, an international nonprofit building the interfaith youth movement. His media appearances include CNN Sunday Morning, NPR's Morning Edition, and the PBS documentary Three Faiths, One God. He lives in Chicago, Illinois.

Eboo Patel, Ph.D., is the founder and executive director of the Interfaith Youth Core, an international nonprofit building the interfaith youth movement. He received his doctorate in the sociology of religion from Oxford University, where he studied on a Rhodes scholarship. Eboo is a regular guest on Chicago Public Radio, a regular panelist for the Washington Post/Newsweek On Faith blog, and a frequent contributor to the Op-Ed pages of The Chicago Tribune. Additionally, he has written for The Harvard Divinity School Bulletin, Utne Magazine, The Journal of Muslim Law and Culture and National Public Radio and has been featured on a range of media, including CNN Sunday Morning, NPR's Morning Edition, the PBS documentary Three Faiths, One God, The New Republic, American Public Media, the BBC, and CNN.

He serves on the Boards of the International Interfaith Center, CrossCurrents Magazine and Duke University's Islamic Studies Center and is also an active member of the Council on Foreign Relations' Religious Advisory Committee and the EastWest Institute's Task Force on American Muslims. Eboo is a sought-after speaker whose addresses include the keynote speech at the Nobel Peace Prize Forum with President Jimmy Carter and the Baccalaureate Service Address at the University of Pennsylvania. He is the co-editor of Building the Interfaith Youth Movement: Beyond Dialogue to Action. Eboo is an Ashoka Fellow, part of an elite network of social entrepreneurs with ideas that have the potential to change the world. He lives in Chicago, Illinois.

購物須知
為了保護您的權益,「三民網路書店」提供會員七日商品鑑賞期(收到商品為起始日)。
若要辦理退貨,請在商品鑑賞期內寄回,且商品必須是全新狀態與完整包裝(商品、附件、發票、隨貨贈品等)否則恕不接受退貨。
外文書商品之書封,為出版社提供之樣本。實際出貨商品,以出版社所提供之現有版本為主。部份書籍,因出版社供應狀況特殊,匯率將依實際狀況做調整。
無庫存之商品,在您完成訂單程序之後,將以空運的方式為你下單調貨。為了縮短等待的時間,建議您將外文書與其他商品分開下單,以獲得最快的取貨速度,平均調貨時間為1~2個月。