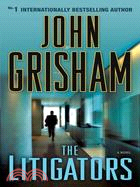 定 價:NT$280元
可得紅利積點:6 點
無庫存,下單後進貨(等候期約30-45個工作天)
The Litigators(訴訟律師)又一本以法律為題材的驚慄小說。年輕律師David辭去律師事務所的工作,想逃離緊繃的生活,卻意外踏進另一家律師事務所,並與前東家在法庭上對抗…..法庭上的策略運用、戲劇性、緊張懸疑,讓你一打開書就停不下來!
葛里遜不僅是美國暢銷書榜的常客,多部作品曾被拍成電影《黑色豪門企業》(The Firm, 1991)、《終極證人》(The Client, 1993)、《終極審判》(The Chamber, 1994)、《失控的陪審團》(The Runaway Jury, 1996)….

The partners at Finley & Figg—all two of them—often refer to themselves as "a boutique law firm." Boutique, as in chic, selective, and prosperous. They are, of course, none of these things. What they are is a two-bit operation always in search of their big break, ambulance chasers who've been in the trenches much too long making way too little. Their specialties, so to speak, are quickie divorces and DUIs, with the occasional jackpot of an actual car wreck thrown in. After twenty plus years together, Oscar Finley and Wally Figg bicker like an old married couple but somehow continue to scratch out a half-decent living from their seedy bungalow offices in southwest Chicago.

And then change comes their way. More accurately, it stumbles in. David Zinc, a young but already burned-out attorney, walks away from his fast-track career at a fancy downtown firm, goes on a serious bender, and finds himself literally at the doorstep of our boutique firm. Once David sobers up and comes to grips with the fact that he's suddenly unemployed, any job—even one with Finley & Figg—looks okay to him.

With their new associate on board, F&F is ready to tackle a really big case, a case that could make the partners rich without requiring them to actually practice much law. An extremely popular drug, Krayoxx, the number one cholesterol reducer for the dangerously overweight, produced by Varrick Labs, a giant pharmaceutical company with annual sales of $25 billion, has recently come under fire after several patients taking it have suffered heart attacks. Wally smells money.

A little online research confirms Wally's suspicions—a huge plaintiffs' firm in Florida is putting together a class action suit against Varrick. All Finley & Figg has to do is find a handful of people who have had heart attacks while taking Krayoxx, convince them to become clients, join the class action, and ride along to fame and fortune. With any luck, they won't even have to enter a courtroom!

It almost seems too good to be true.

And it is.

The Litigators is a tremendously entertaining romp, filled with the kind of courtroom strategies, theatrics, and suspense that have made John Grisham America's favorite storyteller.
John Grisham

Long before his name became synonymous with the modern legal thriller, John Grisham was working 60-70 hours a week at a small Southaven, Mississippi law practice, squeezing in time before going to the office and during courtroom recesses to work on his hobby—writing his first novel.
Born on February 8, 1955 in Jonesboro, Arkansas, to a construction worker and a homemaker, John Grisham as a child dreamed of being a professional baseball player. Realizing he didn't have the right stuff for a pro career, he shifted gears and majored in accounting at Mississippi State University. After graduating from law school at Ole Miss in 1981, he went on to practice law for nearly a decade in Southaven, specializing in criminal defense and personal injury litigation. In 1983, he was elected to the state House of Representatives and served until 1990.
One day at the DeSoto County courthouse, Grisham overheard the harrowing testimony of a twelve-year-old rape victim and was inspired to start a novel exploring what would have happened if the girl's father had murdered her assailants. Getting up at 5 a.m. every day to get in several hours of writing time before heading off to work, Grisham spent three years on A Time to Kill and finished it in 1987. Initially rejected by many publishers, it was eventually bought by Wynwood Press, who gave it a modest 5,000 copy printing and published it in June 1988.
That might have put an end to Grisham's hobby. However, he had already begun his next book, and it would quickly turn that hobby into a new full-time career—and spark one of publishing's greatest success stories. The day after Grisham completed A Time to Kill, he began work on another novel, the story of a hotshot young attorney lured to an apparently perfect law firm that was not what it appeared. When he sold the film rights to The Firm to Paramount Pictures for $600,000, Grisham suddenly became a hot property among publishers, and book rights were bought by Doubleday. Spending 47 weeks on The New York Times bestseller list, The Firm became the bestselling novel of 1991.
The successes of The Pelican Brief, which hit number one on the New York Times bestseller list, and The Client, which debuted at number one, confirmed Grisham's reputation as the master of the legal thriller. Grisham's success even renewed interest in A Time to Kill, which was republished in hardcover by Doubleday and then in paperback by Dell. This time around, it was a bestseller.
Since first publishing A Time to Kill in 1988, Grisham has written one novel a year (his other books are The Firm, The Pelican Brief, The Client, The Chamber, The Rainmaker, The Runaway Jury, The Partner, The Street Lawyer, The Testament, The Brethren, A Painted House, Skipping Christmas, The Summons, The King of Torts, Bleachers, The Last Juror, The Broker, Playing for Pizza, and The Appeal) and all of them have become international bestsellers. There are currently over 225 million John Grisham books in print worldwide, which have been translated into 29 languages. Nine of his novels have been turned into films (The Firm, The Pelican Brief, The Client, A Time to Kill, The Rainmaker, The Chamber, A Painted House, The Runaway Jury, and Skipping Christmas), as was an original screenplay, The Gingerbread Man. The Innocent Man (October 2006) marked his first foray into non-fiction.
Grisham lives with his wife Renee and their two children Ty and Shea. The family splits their time between their Victorian home on a farm in Mississippi and a plantation near Charlottesville, VA.
Grisham took time off from writing for several months in 1996 to return, after a five-year hiatus, to the courtroom. He was honoring a commitment made before he had retired from the law to become a full-time writer: representing the family of a railroad brakeman killed when he was pinned between two cars. Preparing his case with the same passion and dedication as his books' protagonists, Grisham successfully argued his clients' case, earning them a jury award of $683,500—the biggest verdict of his career.
When he's not writing, Grisham devotes time to charitable causes, including most recently his Rebuild The Coast Fund, which raised 8.8 million dollars for Gulf Coast relief in the wake of Hurricane Katrina. He also keeps up with his greatest passion: baseball. The man who dreamed of being a professional baseball player now serves as the local Little League commissioner. The six ballfields he built on his property have played host to over 350 kids on 26 Little League teams.
購物須知
為了保護您的權益,「三民網路書店」提供會員七日商品鑑賞期(收到商品為起始日)。
若要辦理退貨,請在商品鑑賞期內寄回,且商品必須是全新狀態與完整包裝(商品、附件、發票、隨貨贈品等)否則恕不接受退貨。
外文書商品之書封,為出版社提供之樣本。實際出貨商品,以出版社所提供之現有版本為主。部份書籍,因出版社供應狀況特殊,匯率將依實際狀況做調整。
無庫存之商品,在您完成訂單程序之後,將以空運的方式為你下單調貨。為了縮短等待的時間,建議您將外文書與其他商品分開下單,以獲得最快的取貨速度,平均調貨時間為1~2個月。