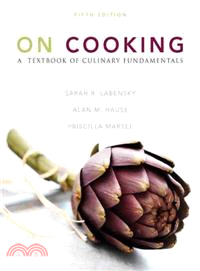 On Cooking + 2012 Myculinarylab With Pearson Etext

ISBN13:9780133103199
出版社:Prentice Hall
裝訂/頁數:精裝/1224頁
規格:27.9cm*23.5cm*4.4cm (高/寬/厚)
出版日:2012/07/19
定 價:NT$9921元
未開放訂購,若需要購買,請來電洽詢02-25006600(分機130、131)
Attractively designed and extensively illustrated with color photographs, line drawings, charts, and sidebars, this contemporary introduction to cooking and food preparation focuses on information that is relevant to today's aspiring chef. Comprehensive and well-written, it emphasizes an understanding of cooking fundamentals, explores the preparation of fresh ingredients, and provides information on other relevant topics, such as food history and food science. This introduction to cooking outlines professionalism, food safety and sanitation, nutrition, recipes and menus, tools and equipment, knife skills, kitchen staples, dairy products, principles of meat, fish and vegetable cookery, garde manger, baking, and presentation. Exciting, new features to this updated edition include:
Healthy Cooking chapter (Chapter 23) combines materials on basic nutrition (Chapter 3 in On Cooking, 4th edition), healthy cooking techniques and cooking for special diets such as vegetarian diets or allergic diets.

Over 250 new photographs emphasize procedural aspects of cooking. Virtually all recipes are now illustrated with photographs.

Updated concept changes to meet the Food Code revision (Chapter 20)

Fresh design, including over 300 new photographs and line drawings Content updates to reflect current trends in the Culinary Arts
This book is an excellent reference for Chefs, Restaurant Managers and others in the food service industry.
0133103196 / 9780133103199 On Cooking: A Textbook of Culinary Fundamentals Plus 2012 MyCulinaryLab with Pearson eText -- Access Card Package
Package consists of:
013298914X / 9780132989145 2012 MyCulinaryLab with Pearson eText -- Access Card -- for On Cooking: A Textbook of Culinary Fundamentals
013715576X / 9780137155767 On Cooking: A Textbook of Culinary Fundamentals
Chef Sarah Labensky , CCP was Founding Director of the Culinary Arts Institute at Mississippi University for Women. She taught cooking and management courses, and administered the school's four-year baccalaureate degree program in Culinary Arts. Prior to joining MUW's faculty, she was a Professor of Culinary Arts at Scottsdale (Arizona) Community College. Before teaching, Chef Sarah spent many years as a working pastry cook and caterer. In April 2006, Sarah purchased The Front Door and Back Door restaurants, located in downtown Columbus, MS. She quickly expanded the operation to add a gourmet retail shop and an evening fine dining restaurant. Sarah purchased The Green Olive Italian Restaurant, located in northwest Columbus, MS in September 2006. She is active in several professional organizations and is a Past President of the 4,000-member International Association of Culinary Professionals.
In her former life, Sarah was a practicing attorney, with a J.D. degree from Vanderbilt University. She also holds a B.S. degree in Political Science and Public Administration from Murray (Kentucky) State University and a Culinary Certificate from Scottsdale (Arizona) Community College. She has been repeatedly included in Marquis' Who's Who in the World, Who's Who in America and Who's Who of American Women. Sarah is originally from Murray, Kentucky, and has also lived in Phoenix and Nashville. In addition to good food, Chef Sarah is passionate about travel and animals. She is Mom to three Rhodesian Ridgebacks, two Weimaraners and four cats of questionable pedigree.
Priscilla Martell is a graduate of Brown University, and currently operates a consulting business called All About Food, that services the food, baking and restaurant industries. She's a prolific freelance writer, and her articles have appeared in a number of newspapers and magazines such as Cooking Light, Food and Wine and Flavor & Menu magazine. She also works with the American Almond Products Company as Culinary Research Director and she has taught as an adjunct at Connecticut Culinary Academy and Boston University. She and and her husband Chalie van Over opened and ran an award winning restaurant for a number of years in their hometown of Chester Ct. called Restaurant du Village
Allen "Skip " Hause " Is co-owner and directing executive of Fabulous Food, which he and his wife founded in 1995 to fulfill their vision of unique custom catering. A graduate of New York's renowned Culinary Institute of America, Hause has stellar credentials in all facets of the culinary world. His experience includes the noted Williamsburg Inn (Williamsburg, VA), corporate work for Omni International Hotels (Atlanta, GA), and 16 years as Executive Chef for a leading Phoenix catering company. As Fabulous Food's Executive Chef, Skip Hause oversees all aspects of the business. He is ably assisted by an exceptional kitchen and planning staff, whose combined talents is the reason the company earns its name in both taste and presentation.
購物須知
為了保護您的權益,「三民網路書店」提供會員七日商品鑑賞期(收到商品為起始日)。
若要辦理退貨,請在商品鑑賞期內寄回,且商品必須是全新狀態與完整包裝(商品、附件、發票、隨貨贈品等)否則恕不接受退貨。
外文書商品之書封,為出版社提供之樣本。實際出貨商品,以出版社所提供之現有版本為主。部份書籍,因出版社供應狀況特殊,匯率將依實際狀況做調整。
無庫存之商品,在您完成訂單程序之後,將以空運的方式為你下單調貨。為了縮短等待的時間,建議您將外文書與其他商品分開下單,以獲得最快的取貨速度,平均調貨時間為1~2個月。