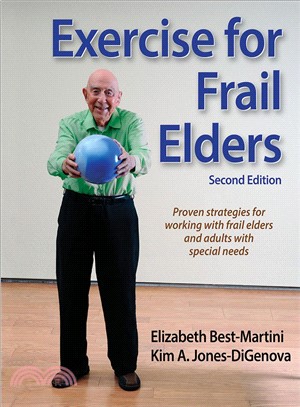 Exercise for Frail Elders

ISBN13:9781450416092
出版社:Human Kinetics
裝訂/頁數:精裝/336頁
規格:29.2cm*22.9cm*3.2cm (高/寬/厚)
出版日:2014/03/07
定 價:NT$3015元
可得紅利積點:81 點
無庫存,下單後進貨(採購期約45-60個工作天)
Best-Martini and Jones-DiGenova present this guide to running an exercise program for adults with physical challenges, including the elderly, disabled, and extremely sedentary. The book is divided into separate sections on planning and implementation. Under the heading of planning, the book discusses a variety of special needs participants may have and how to assess them for each individual, as well as how to make the program motivating, safe, effective, and build a sense of community. The implementation section discusses particulars of exercise, including warm-ups, resistance, aerobic, and balance exercises, and cool-downs. A final chapter discusses practical issues of scheduling, modifying exercises as needed, and progressing the class. Appendices contain forms for obtaining consent and physician approval, educational handouts, and some professional development materials. Annotation c2014 Ringgold, Inc., Portland, OR (protoview.com)
Elizabeth (Betsy) Best-Martini, MS, CTRS, is a certified recreational therapist specializing in the field of fitness, aging, wellness, and long-term care. Best-Martini is the owner of Recreation Consultation, a firm that provides training and recreational therapy consultation to retirement communities, skilled nursing settings, subacute settings, and residential and assisted care facilities in northern California. Her practice also includes Fit For Life one-to-one personal training for adults and older adults.
Best-Martini specializes in working with adults with special needs and brings more than 30 years as a rehabilitation therapist to this work. In addition to consulting, she lectures and provides training across the United States and in Canada. She also teaches a weekly seated strength training class in an assisted living setting.
Best-Martini is an instructor at the College of Marin in Kentfield, California, where she teaches courses in strength, flexibility, and balance for adults and older adults. She trains new fitness instructors in the Exercise for Adults with Special Needs Fitness Instructor Training and Certification course through the American Senior Fitness Association. In addition, she facilitates the Activity Coordinator Training course, which certifies students through the Department of Public Health to become activity coordinators working with older adults and frail elders.
She has authored two other texts, Long-Term Care for Activity Professionals, Social Services Professionals, and Recreational Therapists, Sixth Edition, and Quality Assurance for Activity Programs. Best-Martini also writes a column focusing on fitness and wellness programs for older adults in Creative Forecasting, a national newsletter for activity professionals and recreational therapists.
In 2006 and 2008, Best-Martini received the American Therapeutic Recreation Association (ATRA) Member of the Year Award. She was awarded the 1998 Distinguished Merit Award from the Northern California Council of Activity Coordinators (NCCAC) and the Pete Croughan Award for her volunteer efforts with the nonprofit organization, Love Is The Answer (LITA). She also served on the Visionary Advisory Board for the International Council on Active Aging (ICAA).
In her free time, Best-Martini can be found gardening, hiking, exercising, and spending time with her husband, family, and many pets. She lives in Fairfax, California.
Kim A. Jones-DiGenova, MA, received her master's degree in physical education (exercise physiology) and the Distinguished Achievement in a Major Field Award from San Francisco State University. She is a physical education instructor at the College of Marin in Kentfield, California, where she teaches courses on strength and fitness training for older adults. She also serves as a health and fitness consultant and personal trainer in the San Francisco and San Rafael metropolitan areas.
Jones-DiGenova has been working in the fitness field since 1971. She is an ACSM-certified health fitness specialist; SFA-certified senior personal trainer, senior fitness instructor, and long-term care fitness leader; Arthritis Foundation exercise program instructor; and YMCA strength training instructor trainer. She is the Northern California academic administrator for the American Senior Fitness Association and has developed and implemented resistance training programs in several convalescent, retirement, and senior facilities throughout California. Jones-DiGenova has also assisted handicapable adults with weight training, aerobic exercise, and stress reduction at the Recreation Center for the Handicapped in San Francisco. In addition to her work on Exercise for Frail Elders, Jones-DiGenova is a regular contributor to national and local newsletters.
Jones-DiGenova resides in Novato, California. She enjoys spending time with family and friends and reading. She stays active by walking, hiking, swimming, weight training, and practicing yoga. She has swum from the Golden Gate Bridge to the San Francisco–Oakland Bay Bridge and has successfully escaped from Alcatraz many times.
Janie Clark, MA, is president of the American Senior Fitness Association (SFA), the international organization for fitness professionals who serve older adults. She earned a master's degree in exercise physiology and wellness management from the University of Central Florida, with an emphasis in older adult health and fitness.
Clark is a contributing author of Physical Activity Instruction of Older Adults and Exercise for Older Adults: ACE's Guide for Fitness Professionals. She is the author of Brain Fitness for Older Adults: How to Incorporate Cognitive Fitness Into Physical Activity Programming; Quality-of-Life Fitness; Seniorcise: A Simple Guide to Fitness for the Elderly and Disabled; Full Life Fitness: A Complete Exercise Program for Mature Adults; and Exercise Programming for Older Adults. She has authored hundreds of articles for periodicals, including the Journal of Aging and Physical Activity; Activity, Adaptation & Aging Journal; ACE Certified News; and Modern Maturity.
Janie served on the National AFib Support Team sponsored by Sanofi-Aventis pharmaceutical corporation to provide patients and health care professionals with current information on atrial fibrillation. She also served as a reviewer for the LifeSpan project, which developed functional fitness tests for older adults, and as a member of the Coalition to Develop National Curriculum Standards for Senior Fitness Professionals.
Clark resides in Florida with her husband, son, and ever-growing menagerie of cats, dogs, and other furry creatures.
購物須知
為了保護您的權益,「三民網路書店」提供會員七日商品鑑賞期(收到商品為起始日)。
若要辦理退貨,請在商品鑑賞期內寄回,且商品必須是全新狀態與完整包裝(商品、附件、發票、隨貨贈品等)否則恕不接受退貨。
外文書商品之書封,為出版社提供之樣本。實際出貨商品,以出版社所提供之現有版本為主。部份書籍,因出版社供應狀況特殊,匯率將依實際狀況做調整。
無庫存之商品,在您完成訂單程序之後,將以空運的方式為你下單調貨。為了縮短等待的時間,建議您將外文書與其他商品分開下單,以獲得最快的取貨速度,平均調貨時間為1~2個月。