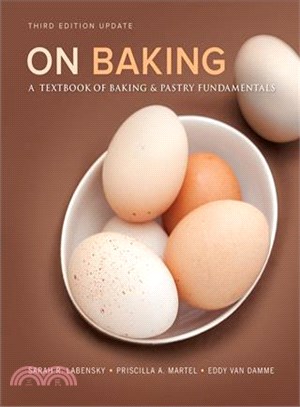 On Baking ─ A Textbook of Baking and Pastry Fundamentals

ISBN13:9780133886757
裝訂/頁數:精裝/864頁
規格:27.9cm*24.1cm*3.2cm (高/寬/厚)
版次:3
出版日:2015/01/16
定 價:NT$6599元
未開放訂購,若需要購買,請來電洽詢02-25006600(分機130、131)
This comprehensive text is designed for courses in baking and the pastry arts, yet still accessible to the aspiring home baker

Help readers understand the how and why of successful baking
On Baking, Third Edition, Update enhances the fundamentals approach that has prepared thousands of students for successful careers in the baking and pastry arts. It teaches both thehow and why, starting with general procedures, highlighting core principles and skills, and then presenting applications and sample recipes. Professionalism, breads, desserts and pastries, advanced pastry work–including chocolate work–are each covered in detail. To help students truly master baking, the book also incorporates scientific, cultural, and historical aspects of the culinary arts.
More than 230 new full-color photographs, 40 new recipes, and information on key trends like healthy baking, wedding cakes, and plating techniques help prepare readers to use the latest methods and recipes.
Also available with MyCulinaryLab
This title is also available with MyCulinaryLab—an online homework, tutorial, and assessment program designed to work with this text to engage students and improve results. With its vast collection of recipes tested in the kitchens of top culinary schools and an extensive ingredient database, Pearson Kitchen Manager allows Chefs to maximize the value of their recipe content. New Culinary Math Problem-Sets for baking are designed to help students with varying levels of math knowledge master the basic math skills they need to be successful in the kitchen, and apply them within the context of baking.
NOTE: You are purchasing a standalone product; MyCulinaryLab does not come packaged with this content. If you would like to purchase both the physical text and MyCulinaryLab search for ISBN-10: 0134115252/ISBN-13: 9780134115252. That package includes ISBN-10: 0133886751/ISBN-13: 9780133886757 and ISBN-10: 0134109406/ISBN-13: 9780134109404.
MyCulinaryLab should only be purchased when required by an instructor.
Chef Sarah Labensky
Currently a professor of culinary arts at Woosong University's Sol International Culinary Arts School in Daejeon, Korea, Chef Sarah Labensky was previously Founding Director of the Culinary Arts Institute at Mississippi University for Women, as well as a professor of culinary arts at Scottsdale (Arizona) Community College. Chef Sarah has also owned restaurants in Columbus, MS and spent many years as a working pastry cook and caterer. She is co-author ofOn Cooking: A Textbook of Culinary Fundamentals (Pearson, 5/e update, 2014),The Prentice Hall Essentials Dictionary of Culinary Arts (Prentice Hall, 2007), andApplied Math for Food Service (Prentice Hall, 1997).
Chef Priscilla Martel
Priscilla Martel is a professional chef, educator and food writer with a special interest in artisan baking, the pastry arts and Mediterranean cuisines. She honed her cooking skills at Restaurant du Village, a country French restaurant opened in Chester, CT in 1979. Today, she operates All About Food, which holds several baking patents and collaborates with food manufacturers and restaurants to create innovative products, menus and marketing programs.

She is a visiting instructor at Boston University's certificate program in the culinary arts. She speaks to consumer and professional organizations about baking, almonds and healthy cooking. She is a contributing writer for Flavor and the Menu Magazine and the culinary director of American Almond Products Company, a leading baking-industry ingredient manufacturer. She is an active member of the International Association of Culinary Professionals, Bread Baker's Guild of America and the International Association of Foodservice Editors.

She is co-author of On Cooking: A Textbook of Culinary Fundamentals (Pearson, 5/e update, 2014) andMath for Bakers DVD.
Chef Eddy van Damme
Belgian-born pastry chef and confectioner, Eddy Van Damme is Professor in the Baking and Pastry Arts Program at Houston Community College. He studied at pastry school in Bruges and at PIVA in Antwerp, Belgium as well as in Paris at LeNotre and Cacao Barry before coming to the United States over 20 years ago. Winner of 5 American Culinary Federation Gold Medals, Chef Van Damme consults to many companies including Imperial Sugar. He is host of popular and award-winning TV showBake It!
購物須知
為了保護您的權益,「三民網路書店」提供會員七日商品鑑賞期(收到商品為起始日)。
若要辦理退貨,請在商品鑑賞期內寄回,且商品必須是全新狀態與完整包裝(商品、附件、發票、隨貨贈品等)否則恕不接受退貨。
外文書商品之書封,為出版社提供之樣本。實際出貨商品,以出版社所提供之現有版本為主。部份書籍,因出版社供應狀況特殊,匯率將依實際狀況做調整。
無庫存之商品,在您完成訂單程序之後,將以空運的方式為你下單調貨。為了縮短等待的時間,建議您將外文書與其他商品分開下單,以獲得最快的取貨速度,平均調貨時間為1~2個月。