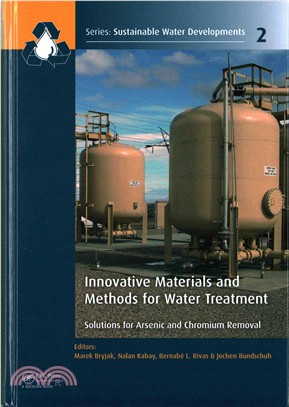 Innovative Materials and Methods for Water Treatment

ISBN13:9781138027497
出版社:CRC Press UK
作者:Steve Hart
裝訂/頁數:精裝/300頁
版次:1
出版日:2016/01/27
定 價:NT$5004元
可得紅利積點:135 點
無庫存,下單後進貨(採購期約45個工作天)
Due to increasing demand for potable and irrigation water, water suppliers have to use alternative resources. They either have to regenerate wastewater or deal with contaminated surface water. This book brings together the experiences of various experts in preparing of innovative materials that are selective for arsenic and chromium removal, and inventing some innovative processes to extract these elements from water. The book should be of high interest to engineers and decision-makers responsible for production and delivery of safe water.
The book is divided into three parts. The first one shows the effect of arsenic and chromium ions on living organisms. The second one presents the studies on preparation of innovative materials with improved affinity towards arsenic as well as chromium. The third part shows the innovative methods for removal of these toxic elements, with special attention paid to chromatographic, membrane, and hybrid systems.
The book is the first ever scientific work addressed to two most harmful elements appearing in water and provides a comprehensive review of materials and methods useful for making the water safe. The book discusses in detail the various fabrication techniques for sorbents and membranes that are now commercially available or appear in the development stage and will be commercialized in the next decades. Some of the technologies described in the third part will be implemented at the industrial scale in the future as well.
Professor Marek Bryjak is working at Wroclaw University of Technology where he graduated in 1977, received PhD in 1982 and was awarded by DSc degree in 2001 for studies on application of polymers to separation processes. He underwent post-doc fellowship at Centre for Surface Science, Lehigh University USA in 1989-1991 andvisited following universities: University of Calabria, Minho University, Ege University, Hacepette University, Imperial College, Stellenbosch University, Kitakyushu University, University of Concepcion, University of Santiago, Torino University, Loughborough University, Bratislava University, Institute of Chemical Technology Prague. He was the Head of Department of Specialty Polymers and Department of Polymer and Carbon Materials. He was the President of Membrane Section, Polish Chemical Society. He is the member of European Center for Innovation and Technology and Center of Advanced Materials and Nanotechnology. Professor Bryjak authored and co-authored about 90 scientific papers, 6 chapters and edited 4 books. He supervised about 80 PhD and MSc theses, gave about 60 invited lectures and participated in 15 international and domestic projects. His scientific interest is focused on development of methods for formation of polymer membranes and their surface modification by plasma treatment, preparation and evaluation of new separation materials, and implementation of these materials to water technology.
Professor Nalan Kabay has been working at Chemical Engineering Department, Faculty of Engineering of Ege University, Turkey since 1994. She graduated from Ege University in 1983. She received her MS degree at Ege University in 1985 and PhD from Kumamoto University, Japan in 1992. She worked as a post-doc between 1998-1999 at National Institute for Research in Inorganic Materials-NIRIM, Japan. She several times visited Chemical Engineering Departments of Loughborough University and Imperial College, London UK as visiting scientist between 1996-2008. She was former Vice-Dean of Engineering Faculty of Ege University (2003-2009), former member of steering committee of Engineering Research Group at Turkish Scientific and Technical Research Council (TUBITAK) (2004-2007). Prof. Kabay authored/co-authored 115 SCI papers, 8 book chapters and was acting as guest editor of special issues of 7 SCI journals, edited 3 books. She is member of editorial board for 3 SCI journals and 1 national journal. She was involved in 15 international and 30 national projects. She gave many lectures at different institutions and conferences as invited scientist in Japan, UK, Germany, Poland, the Netherlands, India, Australia, Israel, Russia, Ukraine, Spain, S.Africa, S.Korea, UAE and Chile. She was awarded by TUBITAK-Science Promotion Award, Canon Foundation in Europe Award in 2001 and SCI-IEX Award in 2012. She is Honorary Member of Japan Ion Exchange Society. She has supervised and co-supervised 8 PhD and 40 MS students. Her main interests are water and wastewater treatment by membrane processes (NF, RO, ED, EDI, MBR), desalination of seawater and geothermal water, ion exchange, boron separation, preparation solvent impregnated resins, elimination of heavy metals and toxic organic compounds from water, wastewater reuse.
Professor Bernabe L.Rivas is working at University of Concepcion where he graduated. He received DSc at the same University in 1980 and worked as post-doc at University of Mainz 1983-84 and University of Tuebingen 1989-1991, Germany. He was former Dean of Faculty of Chemistry and now takes vice rector on Research and Development position at University of Concepcion. Awarded Municipal Award of Sciences, Municipality of Concepcion, Regional Award of Sciences "Pascual Binimelis", Regional Government, Macromolecules Division of Chilean Chemical Society Award. Prof. Rivas autored/co-authored 330 publications in ISI journals, 20 chapters of book and over 500
購物須知
為了保護您的權益,「三民網路書店」提供會員七日商品鑑賞期(收到商品為起始日)。
若要辦理退貨,請在商品鑑賞期內寄回,且商品必須是全新狀態與完整包裝(商品、附件、發票、隨貨贈品等)否則恕不接受退貨。
外文館商品之書封,為出版社提供之樣本。實際出貨商品,以出版社所提供之現有版本為主。部份書籍,因出版社供應狀況特殊,匯率將依實際狀況做調整。
無庫存之商品,在您完成訂單程序之後,將以空運的方式為你下單調貨。為了縮短等待的時間,建議您將外文書與其他商品分開下單,以獲得最快的取貨速度,平均調貨時間為1~2個月。