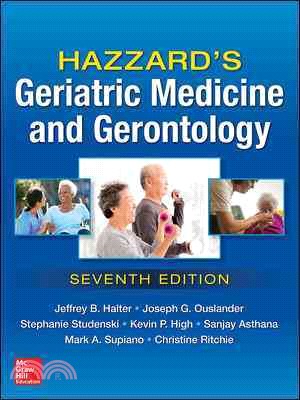 Hazzard's Geriatric Medicine and Gerontology

ISBN13:9780071833455
出版社:McGraw-Hill
裝訂/頁數:精裝/1648頁
版次:7
出版日:2015/12/01
定 價:NT$9250元
可得紅利積點:277 點
庫存:1
The most complete, authoritative guide available on the diagnosis and treatment of disorders affecting the elderly – now in full color and updated with a new global perspective
The undisputed leader on the subject of geriatrics,Hazzard's Principles of Geriatric Medicine and Gerontology, Seventh Edition is a comprehensive guide that combines gerontology principles with clinical geriatrics, offering unmatched coverage of this area of medicine. Anchored in science, evidence-based medicine, and patient-centered practice, it presents the most up-to-date, medical information available -- now in a revamped full-color design that makes finding the answers to questions faster and easier than ever.
Written by some of the world's most respected geriatricians, this practical resource presents the most recent advances in the field of aging for assessing and managing care of diverse groups of older adults in various settings. Focusing on the implementation of key concepts, it covers the foundation for geriatrics, as well as frequently encountered syndromes typically found in the elderly. In addition it provides useful insights into the simultaneous management of multiple problems, including psychological and social issues, and their interactions, an intrinsic aspect of geriatric patient care.
Designed to complementHarrison's Principles of Internal Medicine, the Seventh Edition features:
Content mapped to fellowship competencies and milestones

Expanded coverage of palliative care

Greater emphasis on the presentation of pedagogical concepts and clinical algorithms to help readers streamline decision

making

Extensive tables, drawings, and clinical algorithms made even more effective by a new full-color design
·       Inclusion of more imaging especially in the neurology section and additional color photographs in the dermatology, cardiology, hematology, and ophthalmology sections
Listings of online patient-centered resources at the conclusion of chapters
Jeffrey B. Halter, MDis Professor of Internal Medicine, Chief, Division of Geriatric Medicine, and Director, Geriatrics Center and Institute of Gerontology, University of Michigan.
Joseph G. Ouslander, MD is Professor and Senior Associate Dean for Geriatric Programs at the Charles E. Schmidt College of Medicine and Chair, Department of Integrated Medical Sciences, Professor (Courtesy) at the Christine E. Lynn College of Nursing at Florida Atlantic University.
Stephanie Studenski, MD, MPH is Senior Investigator, Chief, Longitudinal Studies Section, National Institutes of Health.
Kevin P. High, MD, MS is Executive Vice President, Health System Affairs, Wake Forest Baptist Health, the Tinsley R. Harrison Professor and Chair, Department of Internal Medicine, Chief, Section on Infectious Diseases, Wake Forest School of Medicine.
Sanjay Asthana, MD is the Duncan G. and Lottie H. Ballantine Chair in Geriatrics, Professor and Head, Section of Geriatrics & Gerontology at the University of Wisconsin School of Medicine and Public Health.
Mark A. Supiano, MD is the D. Keith Barnes, MD and Dottie Barnes Presidential Endowed Chair in Medicine, Professor and Chief, Division of Geriatrics, University of Utah School of Medicine, Director, VA Salt Lake City Geriatric Research, Education and Clinical Center, Executive Director, University of Utah Center on Aging.
Christine S. Ritchie, MD, MSPH is Professor of Medicine, Harris Fishbon Distinguished Professor, University of California, San Francisco, Department of Medicine, Division of Geriatrics.
購物須知
為了保護您的權益,「三民網路書店」提供會員七日商品鑑賞期(收到商品為起始日)。
若要辦理退貨,請在商品鑑賞期內寄回,且商品必須是全新狀態與完整包裝(商品、附件、發票、隨貨贈品等)否則恕不接受退貨。