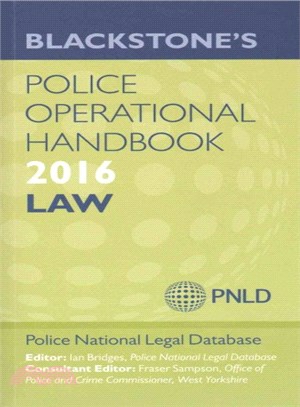 定 價:NT$4230元
絕版無法訂購
Blackstone's Police Operational Handbook 2016: Law and Practice & Procedure Pack combines theBlackstone's Police Operational Handbook 2016: Law with the Blackstone's Police Operational Handbook : Practice & Procedure, Second Edition.

Blackstone's Police Operational Handbook 2016: Law is a compact and portable resource, specifically designed to meet the reference needs of police officers whilst out on patrol. The book clearly explains and interprets the relevant legislation and powers of arrest, points to prove, practical considerations, and related cases. Easy to access and navigate, theHandbook covers over 100 common offences in the areas of general crime, assaults, drugs, sexual offences, public disorder, licensing, and road traffic. It is written in a concise and accessible style, with a clearly structured format and handy icons to aid consultation. It covers a wide range of common offences and clearly explains and interprets the relevant legislation. At a glance you can access everything you need to make a quick, informed decision in a host of everyday policing situations. The 2016 edition is fully updated to include all recent legislative developments, including: the Criminal Justice and Courts Act 2015, the Serious Crime Act 2015, the Deregulation Act 2015, the Modern Slavery Act 2015, the Anti-social Behaviour, Crime and Policing Act 2014, the Finance Act 2014, the Immigration Act 2014, and the Children and Families Act 2014, as well as amendments to the Crime and Courts Act 2013 and the Crime and Security Act 2010. The book also includes information on domestic violence protection notices (DVPNs), as well as changes to PACE Codes A, C, and H, and new HO/MOJ Circulars guidance.

Blackstone's Police Operational Handbook: Practice & Procedure, Second Edition is designed to complement the law volume by offering guidance on good practice in core policing areas. Aimed at junior patrol officers, student officers, and trainees it draws together practical advice across a wide range of police duties, along with extracts and explanations official policy and guidance from ACPO, the College of Policing, and the National Centre for Policing Excellence.

The Handbook provides guidance on a structured approach to police work based on established national principles and practices and is divided into four parts: Evidence Management, which offers advice on the capture and handling of evidence with chapters on crime scene management, disclosure, witness and victim management, and court procedure; Knowledge-based Policing, which outlines the National Intelligence Model, the Police Code of Conduct, ACPO values, human rights, planning and risk management, and dealing with the media; Neighbourhood Policing, which covers the principles and team structures, partnerships, problem-solving techniques, and crime prevention; and Protective Services Policing, which looks at the role of the first responder in major incident response, major crime, and civil contingencies.

Commentary is accompanied with features such as boxed examples, checklists, diagrams, practical tips, and flow-charts.

Police National Legal Database (PNLD), ,Ian Bridges, Senior Legal Advisor, PNLD,Fraser Sampson,Solicitor and Chief Executive, Office of Police and Crime Commissioner, West Yorkshire,Clive Harfield,Australian Research Council Centre for Excellence in Policing and Security, Griffith University,Australia

The Police National Legal Database (PNLD) is a comprehensive legal database covering all legal information that police officers are required to know. It is housed within West Yorkshire Police Training School at Bishopsgarth in Wakefield and is the official online legal database used by the 43 police forces in England & Wales.

Ian Bridges LLB was a police officer for over 30 years and is senior legal adviser at the Police National Legal Database (PNLD).

Fraser Sampson LLB, LLM, MBA is the Solicitor and Chief Executive for the Office of Police and Crime Commissioner, West Yorkshire. Formerly Head of the National Police Training Examinations and Assesment Unit and of the Police Law Unit at national law firm Walker Morris, he is also an Associate Tutor at the University of Glamorgan. He has written and spoken widely in the news media on current Police Law issues and is a leading authority in this area.

Dr Clive Harfield is a former police officer of 20 years' experience and former Deputy Academic Director of the John Grieve Centre for Policing & Community Safety at the London Metropolitan University. Currently at Griffith University, South East Queensland, Australia, he is the author of two Blackstone's Practical Policing titles; Covert Investigation (2012) andIntelligence: Investigation, Community, Partnership (2008), and is also lead editor on the OUP titleHandbook of Intelligent Policing (2008).

購物須知
為了保護您的權益,「三民網路書店」提供會員七日商品鑑賞期(收到商品為起始日)。
若要辦理退貨,請在商品鑑賞期內寄回,且商品必須是全新狀態與完整包裝(商品、附件、發票、隨貨贈品等)否則恕不接受退貨。
外文館商品之書封,為出版社提供之樣本。實際出貨商品,以出版社所提供之現有版本為主。部份書籍,因出版社供應狀況特殊,匯率將依實際狀況做調整。
無庫存之商品,在您完成訂單程序之後,將以空運的方式為你下單調貨。為了縮短等待的時間,建議您將外文書與其他商品分開下單,以獲得最快的取貨速度,平均調貨時間為1~2個月。