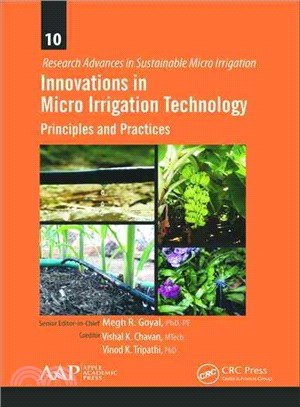 Innovations in Micro Irrigation Technology

ISBN13:9781771881500
作者:Steve Hart
裝訂/頁數:精裝/375頁
規格:23.5cm*15.6cm (高/寬)
版次:1
出版日:2016/04/19
定 價:NT$7020元
可得紅利積點:189 點
無庫存,下單後進貨(採購期約45個工作天)
The tenth and final volume in the series Research Advances in Sustainable Micro Irrigation, this valuable book focuses on new and recent innovations in technology, methods, and applications for micro irrigation. The book covers a wide variety of topics, including successes in micro irrigation in India, how new methods have helped the local economies in several areas, ways to enhance crop yield through new building programs, and new technology and systems. It looks at different aspects of these new innovations in micro irrigation, including economic impact, evaluation methods, bubbler systems, success with particular crops, scheduling, and more. This book is sure to be a helpful resource for professionals and practitioners in the field as well as for students pursuing the field of agriculture.
Megh R. Goyal, PhD, PE, is a retired professor in agricultural and biomedical engineering from the General Engineering Department in the College of Engineering at University of Puerto Rico–Mayaguez Campus; and senior acquisitions editor and senior technical editor-in-chief in agriculture and biomedical engineering for Apple Academic Press Inc. He received his BSc in engineering in 1971 from Punjab Agricultural University, Ludhiana, India; his MSc in 1977 and PhD in 1979 from the Ohio State University, Columbus; and his master of divinity in 2001 from Puerto Rico Evangelical Seminary, Hato Rey, Puerto Rico, USA. He spent one-year sabbatical leave in 2002–2003 at the Biomedical Engineering Department at Florida International University in Miami, Florida, USA. Since 1971, he has worked as soil conservation inspector (1971); research assistant at Haryana Agricultural University (1972–75) and Ohio State University (1975–79); research agricultural engineer/professor at the Department of Agricultural Engineering of UPRM (1979–1997); and professor in agricultural and biomedical engineering in the General Engineering Department of UPRM (1997–2012).
He was first agricultural engineer to receive the professional license in Agricultural Engineering in 1986 from College of Engineers and Surveyors of Puerto Rico. On September 16, 2005, he was proclaimed as "Father of Irrigation Engineering in Puerto Rico for the twentieth century" by the ASABE, Puerto Rico Section, for his pioneer work on micro irrigation, evapotranspiration, agroclimatology, and soil and water engineering. During his professional career of 45 years, he has received awards such as Scientist of the Year, Blue Ribbon Extension Award, Research Paper Award, Nolan Mitchell Young Extension Worker Award, Agricultural Engineer of the Year, Citations by Mayors of Juana Diaz and Ponce, Membership Grand Prize for ASAE Campaign, Felix Castro Rodriguez Academic Excellence, Rashtrya Ratan Award and Bharat Excellence Award and Gold Medal, Domingo Marrero Navarro Prize, Adopted Son of Moca, Irrigation Protagonist of UPRM, and Man of Drip Irrigation by Mayor of Municipalities of Mayaguez/Caguas/Ponce and Senate/Secretary of Agriculture of ELA, Puerto Rico.
He has authored more than 200 journal articles and textbooks, including Elements of Agroclimatology(Spanish) by UNISARC, Colombia, and two Bibliographies on Drip Irrigation. Apple Academic Press Inc. (AAP) has published his books, namelyBiofluid Dynamics of Human Body, Management of Drip/Trickle or Micro Irrigation, Evapotranspiration: Principles and Applications for Water Management, Sustainable Micro Irrigation Design Systems for Agricultural Crops: Practices and Theory, Biomechanics of Artificial Organs and Prostheses, and Scientific and Technical Terms in Bioengineering and Biotechnology. During 2014–15, AAP is publishing his ten-volume set,Research Advances in Sustainable Micro Irrigation. Readers may contact him at: goyalmegh@gmail.com.
Vishal Keshavrao Chavan, MTech, is currently working as a Senior Research Fellow in the Office of the Chief Scientist under Dr. Mahendra B. Nagdeve of the AICRP for Dryland Agriculture at Dr. Punjabrao Deshmukh Krishi Vidyapeeth, Akola, the premier agricultural university in Maharashtra, India. His work included the evaluation of the basic mechanism of clogging in drip irrigation system. His area of interest is primarily micro irrigation and soil and water engineering. He obtained his BTech. in agricultural engineering in 2009 from Dr. Punjabrao Deshmukh Krishi Vidyapeeth, Akola, in Maharashtra, India; and his MTech from the University of Agricultural Sciences, in Raichur, Karnataka, India, in soil and water engineering. An expert on clogging mechanisms, he has published four popular articles and three research papers in national journals, and he attends international confer
購物須知
為了保護您的權益,「三民網路書店」提供會員七日商品鑑賞期(收到商品為起始日)。
若要辦理退貨,請在商品鑑賞期內寄回,且商品必須是全新狀態與完整包裝(商品、附件、發票、隨貨贈品等)否則恕不接受退貨。
外文館商品之書封,為出版社提供之樣本。實際出貨商品,以出版社所提供之現有版本為主。部份書籍,因出版社供應狀況特殊,匯率將依實際狀況做調整。
無庫存之商品,在您完成訂單程序之後,將以空運的方式為你下單調貨。為了縮短等待的時間,建議您將外文書與其他商品分開下單,以獲得最快的取貨速度,平均調貨時間為1~2個月。