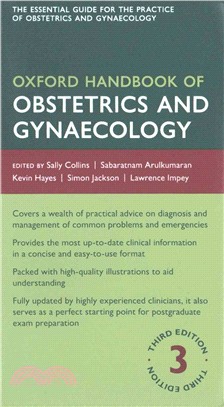 定 價:NT$3380元
可得紅利積點:91 點
無庫存,下單後進貨(採購期約45-60個工作天)
Two titles from the bestselling Oxford Handbook series are available together in this great value pack.

Fully revised for a third edition, the best-selling Oxford Handbook of Obstetrics and Gynaecology is now better than ever. It includes new algorithms for patient management, new images and full colour photographs, and new and expanded topics including female genital mutilation, consent for operations, and pre-operative assessment.
Written and reviewed by a team of highly experienced clinicians and academics, and UK trainees, this handbook is a perfect starting point for preparation for postgraduate exams. Practical advice is presented with key evidence-based guidelines, supported by web references, providing the most up-to-date clinical information as well as the perfect starting point for preparation for postgraduate exams.

The indispensable, concise and practical guide to all aspects of obstetric and gynaecological medical care, diagnosis, and management, this is the must have resource for all specialist trainees, junior doctors and medical students, as well as a valuable aide memoir for experienced clinicians.

The Oxford Handbook of Reproductive Medicine and Family Planning, second edition provides essential practical information in the care of the adolescent and reproductive age females and males. Evidence-based and concise, this handbook is the must-have resource for all practitioners, trainees, and students in sexual and reproductive healthcare.

Fully updated for the second edition, this handbook now contains additional practical guidance, algorithms and diagrams, a new chapter on recurrent miscarraige, as well as expanded informaiton on topics such as fragile X syndrome, PCOs and hirsuitism. It follows chronological age up to the menopause, covering areas such as the reproductive system, puberty, the menstrual cycle, contraceptive methods, and infertility. This is the essential guide to all aspects of reproductive medicine, family planning and sexual health, providing all the vital information the reader needs.

Sally Collins, Specialist Registrar in Obstetrics & Gynaecology, The John Radcliffe Hospital, Oxford, UK,Sabaratnam Arulkumaran,rofessor of Obstetrics and Gynaecology, St George's Hospital Medical School, University of London, UK,Kevin Hayes,Senior Lecturer / Honorary Consultant in Obstetrics and Gynaecology and Medical Education, St George's Hospital Medical School and NHS Trust, University of London, UK,Simon Jackson,Consultant Gynaecologist, John Radcliffe Hospital, Oxford, UK,Lawrence Impey,Consultant in Obstetrics and Fetal Medicine, The John Radcliffe Hospital, Oxford, UK,Enda McVeigh,Senior Fellow in Reproductive Medicine; Consultant Gynaecologist; Medical Director,, University of Oxford; John Radcliffe Hospital; Oxford IVF Unit, UK,John Guillebaud,Professor of Family Planning and Reproductive Health; Honorary Consultant in Family Planning and Reproductive Health,Oxford Primary Care Trust, UK,Roy Homburg, Professor of Reproductive Medicine, Homerton Univer

Enda McVeigh is Senior Fellow in Reproductive Medicine at the University of Oxford, Consultant Gynaecologist at theJohn Radcliffe Hospital, and Medical Director at the Oxford IVF Unit


John Guillebaud is Emeritus Professor of Family Planning and Reproductive Health, University College London. He was born at Buye, Burundi, brought up in Rwanda, Uganda and Kenya, and continues to make regular training and support visits for healthcare professions in Africa (Central and South). He is Ex-Medical Director, at Margaret Pyke Centre for Study and Training in Family Planning. He is currently Research Director at the Elliot-Smith Clinic, Churchill Hospital, Oxford, where in addition to having performed c 5000 vasectomies he is involved in studies of the world's first non-hormonal male pill producing a semen-free orgasm - potentially reducing male-to-female HIV transmission. He is author/co-author of c 300 publications on environmental sustainability, reproductive health and population, contraception for women and for men, and of eight books which are available in 10 languages including Bulgarian and Japanese.

Professor Homburg is an obstetrician and gynaecologist who specialises in reproductive medicine. As a fertility specialist, Professor Homburg has a worldwide reputation having published 200 research articles and chapters in books and has written or edited seven books. He has been invited to lecture in all five continents at frequent intervals and has won prizes for his research at the British Fertility Society, the American Society of Reproductive Medicine, the European Society of Human Reproduction and Embryology (ESHRE) and the Israel Fertility Society (3 times). He has served as an Associate Editor for Human Reproduction and presently for Human Reproduction Update.

Professor Homburg's main interests and speciality are the treatment of infertility in general, polycystic ovary syndrome, ovulation induction, ovarian stimulation and IVF.

購物須知
為了保護您的權益,「三民網路書店」提供會員七日商品鑑賞期(收到商品為起始日)。
若要辦理退貨,請在商品鑑賞期內寄回,且商品必須是全新狀態與完整包裝(商品、附件、發票、隨貨贈品等)否則恕不接受退貨。
外文書商品之書封,為出版社提供之樣本。實際出貨商品,以出版社所提供之現有版本為主。部份書籍,因出版社供應狀況特殊,匯率將依實際狀況做調整。
無庫存之商品,在您完成訂單程序之後,將以空運的方式為你下單調貨。為了縮短等待的時間,建議您將外文書與其他商品分開下單,以獲得最快的取貨速度,平均調貨時間為1~2個月。