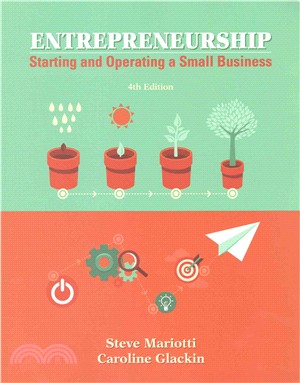 Entrepreneurship ─ Starting & Operating a Small Business

ISBN13:9780134422565
裝訂/頁數:平裝/576頁
規格:26.7cm*21.6cm*1.3cm (高/寬/厚)
版次:4
出版日:2016/01/13
定 價:NT$10499元
可得紅利積點:283 點
無庫存,下單後進貨(採購期約45個工作天)
NOTE: Before purchasing, check with your instructor to ensure you select the correct ISBN. Several versions of Pearson's MyLab & Mastering products exist for each title, and registrations are not transferable. To register for and use Pearson's MyLab & Mastering products, you may also need a Course ID, which your instructor will provide.

Used books, rentals, and purchases made outside of Pearson
If purchasing or renting from companies other than Pearson, the access codes for Pearson's MyLab & Mastering products may not be included, may be incorrect, or may be previously redeemed. Check with the seller before completing your purchase.
For courses in Entrepreneurship, Small Business Management, and Starting a Business.
This package includes MyEntrepreneurshipLabTM.
A Comprehensive, Practical Approach to Starting a Business
For fledgling entrepreneurs and business students, Entrepreneurship: Starting and Operating A Small Businessuntangles the complex economic, financial, and professional considerations surrounding business ownership and operations.

In its Fourth Edition, Entrepreneurship takes a critical look at contemporary entrepreneurial successes, allowing students with a range of business interests to engage with and draw insight from the text. Balancing real-world case studies with thoughtful instruction, Entrepreneurship leads students to develop their business plans step by step, at the end of each chapter. This approach allows students to internalize different aspects of business ownership at a self-guided pace. The authors' combined business acumen and educational expertise make for a fluid transfer of business concepts between text, instructor, and student. Students will relish the opportunity to start drawing up a business plan right away, enhancing their experience both in and out of classroom.
Personalize Learning with MyEntrepreneurshipLab
MyEntrepreneurshipLab is an online homework, tutorial, and assessment program designed to work with this text to engage students and improve results. Within its structured environment, students practice what they learn, test their understanding, and pursue a personalized study plan that helps them better absorb course material and understand difficult concepts.
0134422562 / 9780134422565 Entrepreneurship: Starting and Operating a Small Business Plus MyEntrepreneurshipLab with Pearson eText -- Access Card Package, 4/e
Package consists of: 
0133934454 / 9780133934458 Entrepreneurship: Starting and Operating a Small Business
0133935876 / 9780133935875 MyEntrepreneurshipLab with Pearson eText -- access Card -- for Entrepreneurship: Starting and Operating a Small Business
Steve Mariotti, founder of the Network for Teaching Entrepreneurship (NFTE), is considered one of today's leading experts in education for at-risk youth.  In 1982, he changed career paths when he decided to leave the corporate sector and become a special education teacher in the New York City public school system.
Mariotti's first assignment was in the East New York section of Brooklyn, and his last was in the Fort Apache section of the South Bronx. During his six-and-a-half years teaching, Mariotti discovered he could successfully motivate even his most challenging students by teaching them how to run a business. This experience inspired him to create a new kind of program--the first to bring entrepreneurial education to low-income youth.
In 1987, Mariotti founded The Network for Teaching Entrepreneurship (NFTE). Today, NFTE's mission is to provide entrepreneurship education programs to young people from low-income communities around the world.  NFTE's programs have a proven track record of success, and the network is widely viewed as the thought leader in the field. NFTE is an active member of the Council on Foreign Relations. In 2013, Mariotti traveled to Southeast Asia as a guest of the U.S. State Department on a mission to spread entrepreneurial education to youth from emerging economies in the region.
Mariotti was recently nominated for a Pulitzer Prize for his work chronicling the lives of entrepreneurs worldwide forThe Huffington Post and for a Nobel Peace Prize for his pioneering work in entrepreneurial education. A lifelong advocate for low-income students, Mariotti is the recipient of numerous awards including:
Ernst & Young Entrepreneur of the Year Award
Bernard A. Goldhirsh Social Entrepreneur of the Year Award
National Director's Entrepreneurship Award from the Minority Business Development Agency of the U.S. Department of Commerce
Association of Education Publishers' Golden Lamp Award
ACE/Currie Foundation Humanitarian Venture Award
America's Top High School Business Teacher
In addition, Mariotti has been the subject of many national media profiles on such programs asABC Evening News and 20/20.
He has authored and coauthored 34 books and workbooks on entrepreneurship, selling over 10 million worldwide and distributing many more copies for free to at-risk communities, including prisons.  His popular bookThe Young Entrepreneur's Guide to Starting and Running a Small Business has recently been published in a new edition by Random House and is used to teach entrepreneurship from the United States to China, India, and the Middle East.  Mariotti is a regular attendee and speaker at The World Economic Forum.
Raised in Flint, Michigan, Mariotti received his B.B.A in business economics and his M.B.A. from the University of Michigan, Ann Arbor. He has also studied at Harvard University, Stanford University, and Brooklyn College. He started his professional career as a treasury analyst for Ford Motor Company before founding his own company, Mason Import/Export Services.
Caroline Glackin, Ph.D., is a "pracademic" who has successfully worked as a microenterprise and small business owner and manager, as an executive director of a community development financial institution, and as an academic in areas of community development finance, entrepreneurship, and management. She is the Edward L. Snyder Endowed Chair for Business at Shepherd University in West Virginia.  She has been assisting entrepreneurs in achieving their dreams for over 30 years.
Glackin earned a doctorate from the University of Delaware, where her research emphasis was on microfinance. She received an M.B.A. from The Wharton School at the University of Pennsylvania and a B.A. from Bryn Mawr College. Her professional career began with the DuPont Company, American Bell, Bell Atlantic, and American Management Systems. She has consulted for businesses and not-for-profit agencies in turnaround and high-growth situations. After exiting a family business, she became the executive director of a community development financial institution serving businesses and not-for-profits.
Dr. Glackin has succeeded in leading change in the practical fields of her research and has received numerous honors and awards. These include the first Gloeckner Business Plan Award at The Wharton School, the Minority Business Advocate of the Year for Delaware from the U.S. Small Business Administration, and the She Knows Where She's Going Award from Girls Inc. Dr. Glackin cochaired the Delaware Governor's Task Force for Financial Independence. She has participated in the Cornell University Emerging Markets Think Tank Series and has presented her research and pedagogy at numerous professional conferences.
購物須知
為了保護您的權益,「三民網路書店」提供會員七日商品鑑賞期(收到商品為起始日)。
若要辦理退貨,請在商品鑑賞期內寄回,且商品必須是全新狀態與完整包裝(商品、附件、發票、隨貨贈品等)否則恕不接受退貨。
外文館商品之書封,為出版社提供之樣本。實際出貨商品,以出版社所提供之現有版本為主。部份書籍,因出版社供應狀況特殊,匯率將依實際狀況做調整。
無庫存之商品,在您完成訂單程序之後,將以空運的方式為你下單調貨。為了縮短等待的時間,建議您將外文書與其他商品分開下單,以獲得最快的取貨速度,平均調貨時間為1~2個月。