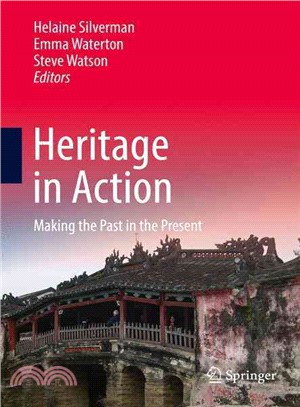 Heritage in Action ─ Making the Past in the Present

ISBN13:9783319428680
出版社:Springer Verlag
裝訂:精裝
規格:23.5cm*15.5cm (高/寬)
出版日:2016/11/21
定 價:NT$4050元
可得紅利積點:121 點
無庫存,下單後進貨(採購期約45-60個工作天)
In this textbook we see heritage in action in indigenous and vernacular communities, in urban development and regeneration schemes, in expressions of community, in acts of nostalgia and memorialization and counteracts of forgetting, in museums and other spaces of representation, in tourism, in the offices of those making public policy, and in the politics of identity and claims toward cultural property.
Whether renowned or local, tangible or intangible, the entire heritage enterprise, at whatever scale, is by now inextricably embedded in "value".
The global context requires a sanguine approach to heritage in which the so-called critical stance is not just theorized in a rarefied sphere of scholarly lexical gymnastics, but practically engaged and seen to be doing things in the world.
Helaine Silverman is Professor in the Department of Anthropology at the University of Illinois and Director of the Collaborative for Cultural Heritage Management and Policy (CHAMP) at UI. She is interested in the cultural politics of heritage production and management, tourism and economic development, and local and national imaginaries of identity. In addition to her authored works and edited volumes, she serves on the editorial boards of American Anthropologist, International Journal of Heritage Studies, Heritage & Society, World Art, and Thema. Her current research projects are "Tourism, Heritage and Identity in Cuzco, Peru", "World Heritage and Community at Cahokia-Collinsville, Illinois" and "Heritage Promotion at the Ironbridge Gorge World Heritage Site, UK." Professor Silverman is an expert member of ICOMOS' international scientific committees on Archaeological Heritage Management (ICAHM) and Cultural Tourism (ICTC). She is also a Visiting Research Fellow at Ironbridge International Institute for Cultural Heritage at the University of Birmingham.?
Emma Waterton is an Associate Professor in the Geographies of Heritage at the University of Western Sydney, Australia. She works in the area of Heritage Studies. Before taking up her post at UWS in 2010, she held an RCUK Academic Fellowship in the areas of History and Heritage at Keele University. Her research interests emphasize community heritage, representations of the past and the critical analysis public policy, especially those tackling social inclusion, multiculturalism and expressions of national identity. Together, these interests challenge the dominant conceptualizations of heritage found in policy, which tend to privilege the cultural symbols of a particular social group. In particular, her work attempts to illustrate how and why, despite attempts to mitigate instances of exclusion, recent policies continue to lean towards the predictable melding of cultural diversity with tendencies of assimilation.?
Emma has a prolific publication record including a sole authored book and two co-authored books, as well as multiple edited volumes. She also has published peer-reviewed journal articles and book chapters, both sole authored and jointly authored. In addition she has been extremely successful in obtaining major grants for her heritage fieldwork including a prestigious multi-year ARC Discovery Early Career Researcher Award.?
Emma's current research projects are the following: Photos of the Past: The Negotiation of Identity and Belonging at Australian Tourism Sites; Memorialization and Affect: Remembering Pearl Harbor; Interpretive Signage and the Representation of Indigenous History in Australian Protected Areas; ANZAC Thanatourism; Heritage Tourism in Hiroshima.?
Steve Watson taught a range of subjects in undergraduate programs in business management and tourism management and in postgraduate programs in marketing at York St John University, UK. He also supervised doctoral students in the field of cultural tourism and tourism development. His main research interest was cultural and heritage tourism and he was a leading expert in this field having published books and papers exploring the interactions between heritage, culture, tourism and communities. He had extensive experience working in the public sector and conducted research for a number of local authorities and other organizations, including English Heritage. He taught in several universities in the UK including Edinburgh, York, John Moores and Hull and had given guest lectures in universities in the United Kingdom, the United States, Spain and Australia. Apart from his academic responsibilities he was active in the tourism industry working with groups and individuals to develop and enhance tourism for the benefit of the local economy. Steve was one of the founding members of the Association of Critical Heritage Studies, an international organization dedicated to the study of heritage as a social and cultural practice. He was on the editorial boards of two international journals and was book reviews editor for both. He regularly reviewed books and contributions for other academic journals and worked with scholars from around the world on a variety of projects. ?Steve was a non-executive director of Visit York and had been instrumental in developing its research program.?
購物須知
為了保護您的權益,「三民網路書店」提供會員七日商品鑑賞期(收到商品為起始日)。
若要辦理退貨,請在商品鑑賞期內寄回,且商品必須是全新狀態與完整包裝(商品、附件、發票、隨貨贈品等)否則恕不接受退貨。
外文書商品之書封,為出版社提供之樣本。實際出貨商品,以出版社所提供之現有版本為主。部份書籍,因出版社供應狀況特殊,匯率將依實際狀況做調整。
無庫存之商品,在您完成訂單程序之後,將以空運的方式為你下單調貨。為了縮短等待的時間,建議您將外文書與其他商品分開下單,以獲得最快的取貨速度,平均調貨時間為1~2個月。