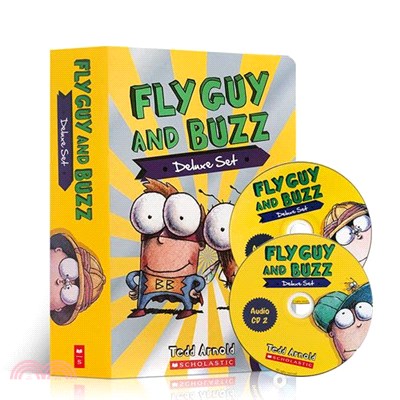 Fly Guy and Buzz Deluxe Set (15平裝+2CD) 初級英語橋梁書

系列名:Fly Guy
ISBN13:9789811143953
出版社:Scholastic Asia
作者:Tedd Arnold
裝訂/頁數:有聲書/480頁
規格:23.7cm*16cm*4.3cm (高/寬/厚)
出版日:2017/11/20
適讀年齡:學齡前
Tedd Arnold is the author and illustrator of the bestselling Fly Guy series and the illustrator of more than 60 books, including DETECTIVE BLUE. He has received Theodor Seuss Geisel Honors for HI! FLY GUY and I SPY FLY GUY! Tedd lives with his wife, Carol, in upstate New York.
購物須知
為了保護您的權益,「三民網路書店」提供會員七日商品鑑賞期(收到商品為起始日)。
若要辦理退貨,請在商品鑑賞期內寄回,且商品必須是全新狀態與完整包裝(商品、附件、發票、隨貨贈品等)否則恕不接受退貨。
外文館商品之書封,為出版社提供之樣本。實際出貨商品,以出版社所提供之現有版本為主。部份書籍,因出版社供應狀況特殊,匯率將依實際狀況做調整。
無庫存之商品,在您完成訂單程序之後,將以空運的方式為你下單調貨。為了縮短等待的時間,建議您將外文書與其他商品分開下單,以獲得最快的取貨速度,平均調貨時間為1~2個月。