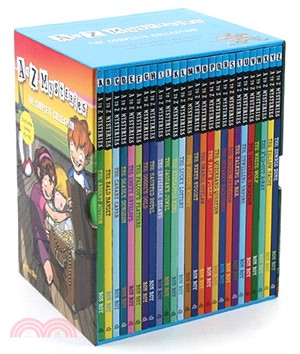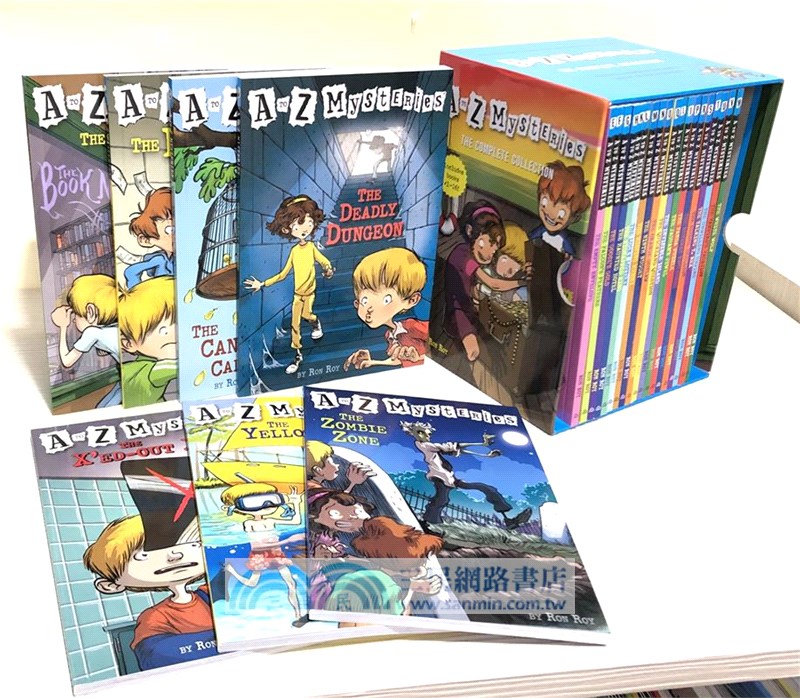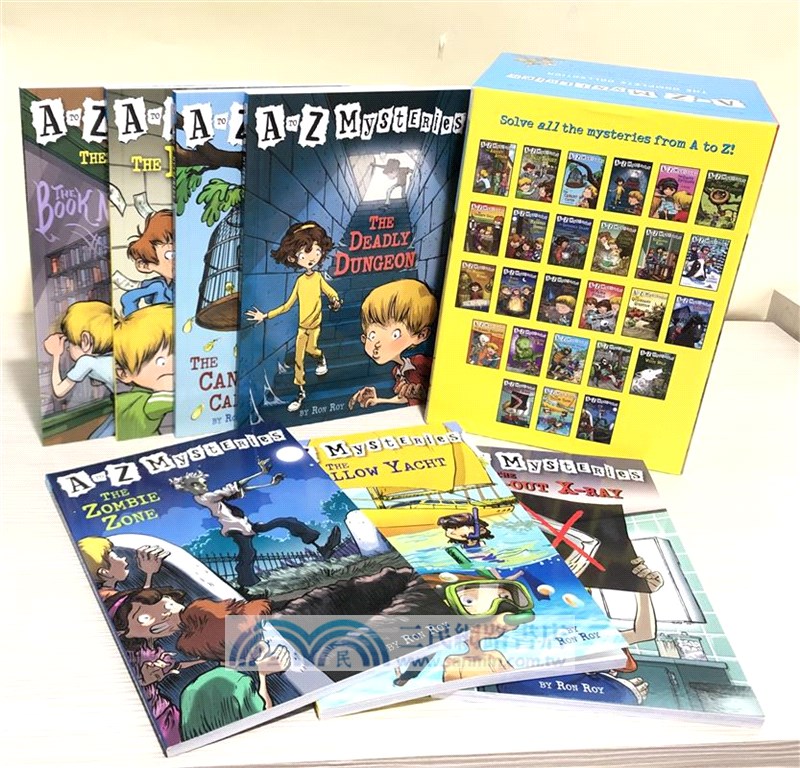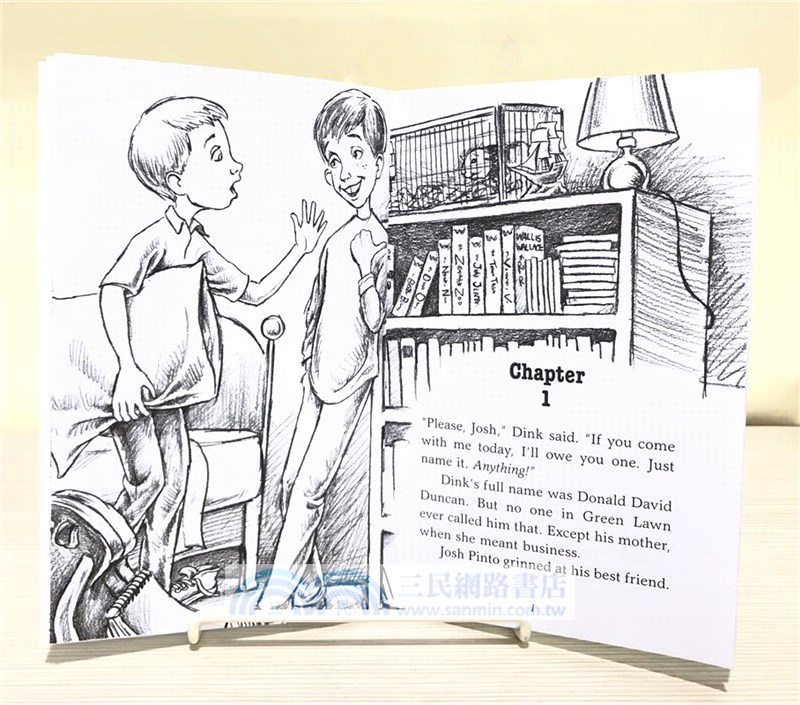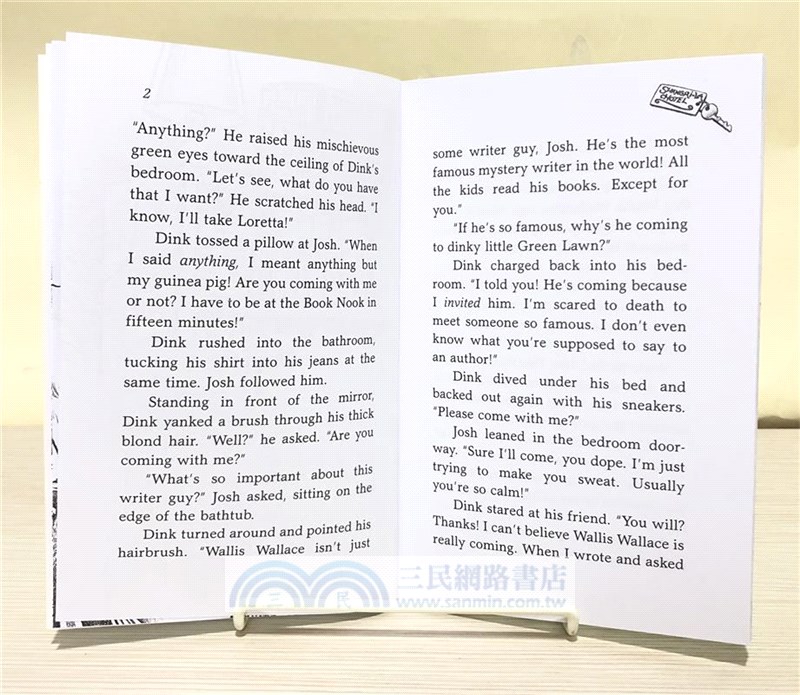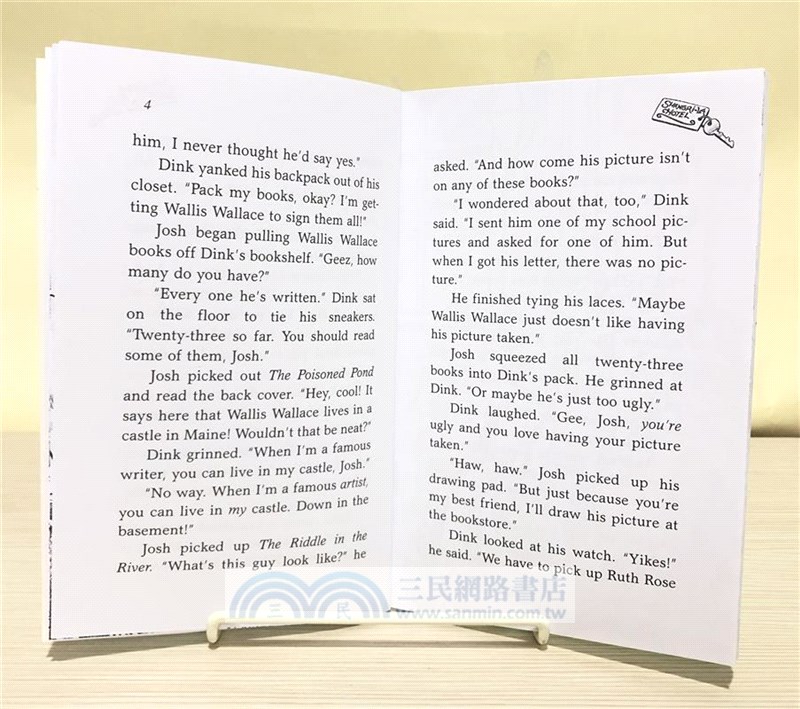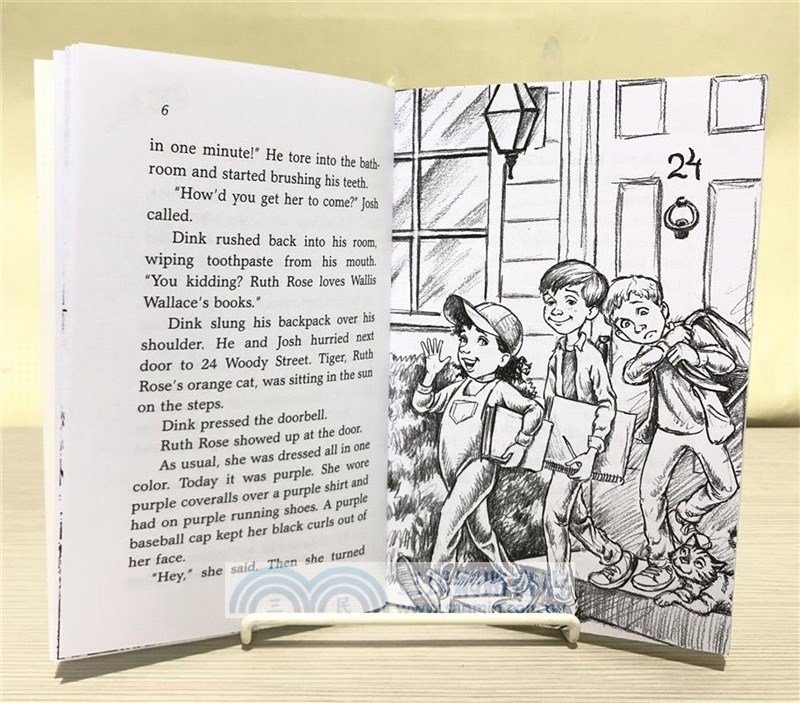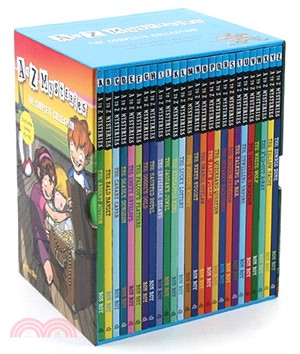 A to Z Mysteries boxed set (26本平裝本 附書盒)

ISBN13:9780375978654
裝訂:平裝
規格:19.7cm*13.3cm (高/寬)
出版日:2020/07/01
適讀年齡:小學
促銷優惠:閱讀成癮--7折起
定 價:NT$5451元
可得紅利積點:89 點
庫存 > 10
Help Dink, Josh, and Ruth Rose solve mysteries from A to Z!
Kids love collecting the entire alphabet and super editions! With over 8 million copies in print, the A to Z Mysteries® have been hooking chapter book readers on mysteries and reading for years. Now this classic kid favorite is back with a bright new look!

藍思分級520L

#A:The Absent Author
A is for Author . . . A famous writer is coming to Green Lawn! Dink rushes to the bookstore to meet his favorite author, Wallis Wallace, and get all his books signed. But the author never shows up! Where is Wallis Wallace? It's up to Dink and his friends Josh and Ruth Rose to track him down.

#B:The Bald Bandit
B is for Bandit . . . There's a bank robber in Green Lawn! A red-haired kid took a video of the crime, but nobody can find him. Without the video, will the robber go free? Dink, Josh, and Ruth Rose must track down that kid—before the bandit does!

#C:The Canary Caper
C is for Canary . . . Green Lawn has a pet problem! Dink's neighbor can't find her canary. Ruth Rose's cat, Tiger, has also disappeared. Then the kids hear about two more missing critters. Is there a pet-napper in town? Dink, Josh, and Ruth Rose are on the case!

#D:The Deadly dungeon
D is for Dungeon . . . Get ready for a sleepover—in a castle! Soon after the kids arrive at Moose Manor in Maine, they hear strange sounds behind the walls. Does this castle have a hidden dungeon? And could it be haunted? Dink, Josh, and Ruth Rose are dying to find out!

#E:The Empty Envelope
E is for Envelope . . . Who is sending letters to Dink? All week long, Dink has been getting strange mail. The envelopes are addressed to "D. Duncan," but the letters inside are for someone named Doris. Plus, one envelope is empty! Could it be a secret code? And can Dink, Josh, and Ruth Rose crack it?

#F:The Falcon's Feathers
F is for Falcon . . . Find those falcons! After Josh discovers a falcons' nest, he checks on the young birds every day. But when he tries to show Dink and Ruth Rose, the nest is empty! Could someone have taken the baby falcons? Soar into the mystery with Dink, Josh, and Ruth Rose!

#G:The Goose's Gold
G is for Gold . . . There's sunken treasure off the Florida coast! On the day after they arrive for vacation, Dink, Josh, and Ruth Rose meet two men who are diving for gold from their boat, the Golden Goose. They promise to share with anyone who backs their plan. Is it too good to be true?

#H:The Haunted Hotel
H is for Haunted . . . There's a ghost in Green Lawn! Strange sounds and even stranger sights are terrifying guests at the Shangri-la Hotel. More and more people are being scared away. Will Green Lawn turn into a ghost town? Or can Dink, Josh, and Ruth Rose stop this spook?

#I:The Invisible Island
I is for Island . . . It's picnic time! Dink, Josh, and Ruth Rose pack up a basket and wade out to Squall Island. Right away, they find a hundred-dollar bill in the sand! But when they come back the next day, the entire island has mysteriously disappeared. What is the secret of Squall Island?

#J:The Jaguar's Jewel
J is for Jewel . . . New York is the emerald city! Dink's uncle's museum there has a new treasure—a golden jaguar statue with an emerald between its paws. But someone swaps the jewel for a fake! Who stole the jaguar's jewel? Dink, Josh, and Ruth Rose are sure to find out!

#K:The Kidnapped King
K is for Kidnapped . . . The king and queen of Costra have been kidnapped. For his own safety, Prince Sammi comes to Green Lawn to hide out at Dink's house. But then Sammi is captured, too! Who kidnapped the king and his family? It's a royal mystery for Dink, Josh, and Ruth Rose.

#L:The Lucky Lottery
L is for Lucky . . . Lucky O'Leary has never been lucky—until his grandfather sends him a winning lottery ticket! But before Lucky can collect the cash, someone steals the ticket. Has Lucky's luck run out for good? Dink, Josh, and Ruth Rose take a chance on this unlucky mystery.

#M:The Missing Mummy
M is for Mummy . . . Dink, Josh, and Ruth Rose want their mummy! It's Mummy Monday at the museum, and the kids get to see a child mummy in an actual tomb. But then someone robs the tomb and steals the mummy. Can the three friends unravel the mystery?

#N:The Ninth Nugget
N is for Nugget . . . Howdy from Montana, pardners! Dink, Josh, and Ruth Rose are spending a week at a dude ranch. When they pan for gold, Josh finds a huge nugget. But gold fever has struck, and soon the nugget is stolen. It's up to the kids to round up the thief.

#O:The Orange Outlaw
O is for Orange . . . An art thief is on the loose! Dink, Josh, and Ruth Rose are visiting Dink's uncle Warren in New York City when a painting is stolen from his apartment. A trail of orange peels and an orange hair are the only clues. Can the kids catch this crafty—and hungry—crook?

#P:The Panda Puzzle
P is for Panda . . . There's panda-monium in Green Lawn! The town is building a new park for a panda and her baby. But soon, the baby is panda-napped for a million-dollar ransom. Can Dink, Josh, and Ruth Rose solve the puzzle before Green Lawn has to pay up?

#Q:The Quicksand Question
Q is for Quicksand . . . Quack, quack—ducks crossing! Green Lawn is raising funds for a special bridge to keep ducks safe when they cross River Road. But then the money is stolen! Dink, Josh, and Ruth Rose are on a quest to get it back. Not even quicksand can stop them. . . .

#R:The Runaway Racehorse
R is for Racehorse . . . And they're off! The kids can't wait to see Uncle Warren's racehorse Whirlaway's big event. But then the horse disappears. He shows up the next day, just in time to lose the race. Why is Whirlaway suddenly so slow? Dink, Josh, and Ruth Rose are on the case!

#S:The School Skeleton
S is for Skeleton . . . It's a bona fide mystery at Dink's school! Someone has stolen Mr. Bones, the skeleton from the nurse's office. Soon mysterious clues start showing up all over the school. Dink, Josh, and Ruth Rose must follow the clues and put those old bones to rest.

#T:The Talking T.Rex
T is for T. Rex . . . It's the biggest mystery yet! The kids' friend Jud brings a surprise to Green Lawn—a giant talking, moving T. rex statue! This touring T. rex will help raise funds for a dinosaur museum. But after the show, Jud's money disappears. Can Dink, Josh, and Ruth Rose track down the cash and solve this prehistoric pickle?

#U:The Unwilling Umpire
U is for Umpire . . . Play ball! While the whole town of Green Lawn is watching the women take on the men in a charity baseball game, Mr. Pocket's prized baseball collection is stolen! The police suspect the umpire of foul play. Can Dink, Josh, and Ruth Rose prove his innocence . . . or will they strike out?

#V:The Vampire's Vacation
V is for Vampire . . . Grab your garlic! When the kids follow a mysterious pale and dark-haired stranger into Ellie's Diner, he suddenly vanishes! Then they see a cut on Ellie's neck. Could it be a vampire bite? And will Dink, Josh, and Ruth Rose be his next victims?

#W:The White Wolf
W is for Wolf . . . Where could those wolves be? When the kids visit the Maine wilderness, they spot a white mother wolf and her babies on a cliff. But soon after that, the pups are stolen! Can Dink, Josh, and Ruth Rose sniff out the culprits?

#X:The X'ed-Out X-Ray
X is for X-Ray . . . X marks the spot! When the kids go to a concert, Dink injures his arm. At the same time, the singer's diamond necklace is stolen. Are the two mishaps connected? And could Dink's X-ray have the answers? It's up to Dink, Josh, and Ruth Rose to examine the evidence!

#Y:The Yellow Yacht
Y is for Yacht . . . There's trouble in paradise! The kids are having a great time swimming, snorkeling, and soaking up the sun in Costra. But the fun is cut short when there's a robbery on the island. Is the heist connected to a mysterious yacht docked nearby? It's up to Dink, Josh, and Ruth Rose to find out.

#Z:The Zombie Zone
Z is for Zombie . . . There's a zombie on the loose! When Dink, Josh, and Ruth Rose visit the Louisiana bayous, they meet a village with one spooky problem. Locals say a silver-haired zombie is digging up graves in the cemetery. Are the stories real? Dink, Josh, and Ruth Rose will unearth the truth!
RON ROY has been writing books for children since 1974. He is the author of dozens of books, including the popular A to Z Mysteries®, Calendar Mysteries, and Capital Mysteries. When not working on a new book, Ron likes to teach tricks to his dog Pal, play poker with friends, travel, and read thrilling mystery books.
STEPHEN GILPIN is the award-winning illustrator of dozens of children's books, including the popular and very funny Pirate Mom. He brings his fresh, kid-friendly style to all the covers of the A to Z Mysteries® series.
購物須知
為了保護您的權益,「三民網路書店」提供會員七日商品鑑賞期(收到商品為起始日)。
若要辦理退貨,請在商品鑑賞期內寄回,且商品必須是全新狀態與完整包裝(商品、附件、發票、隨貨贈品等)否則恕不接受退貨。
外文館商品之書封,為出版社提供之樣本。實際出貨商品,以出版社所提供之現有版本為主。部份書籍,因出版社供應狀況特殊,匯率將依實際狀況做調整。
無庫存之商品,在您完成訂單程序之後,將以空運的方式為你下單調貨。為了縮短等待的時間,建議您將外文書與其他商品分開下單,以獲得最快的取貨速度,平均調貨時間為1~2個月。