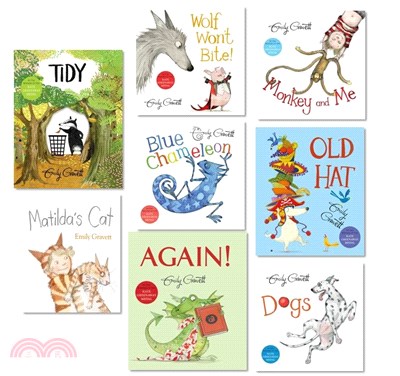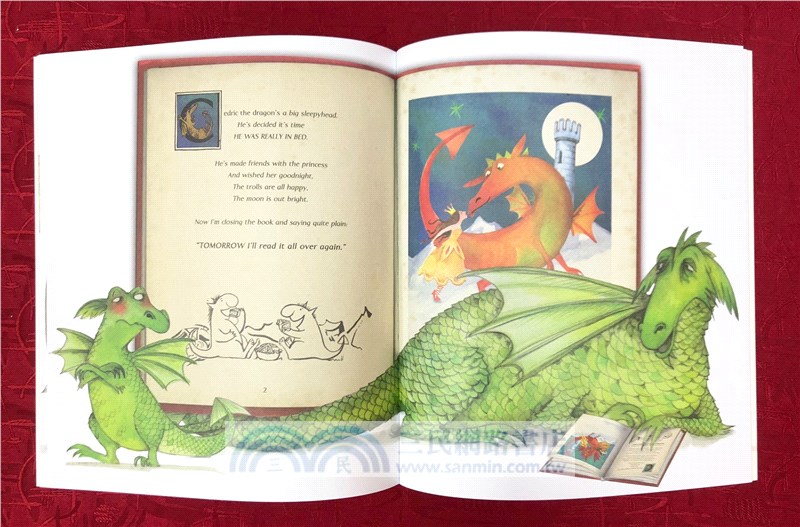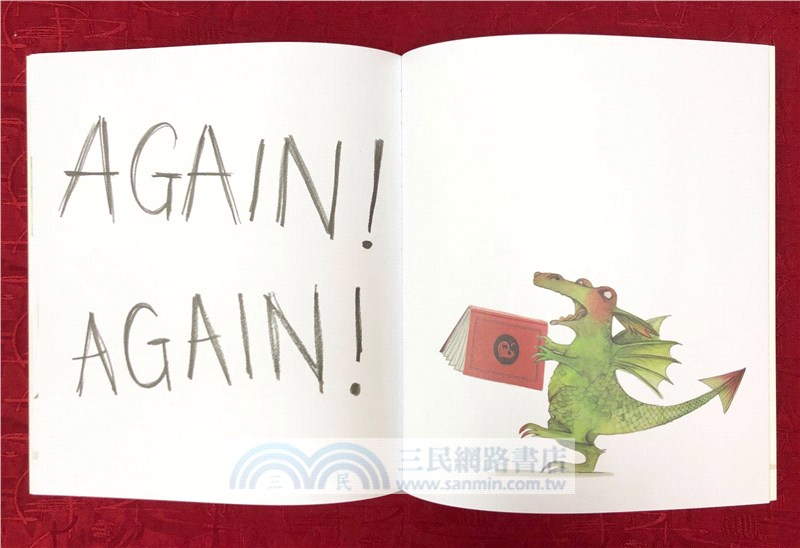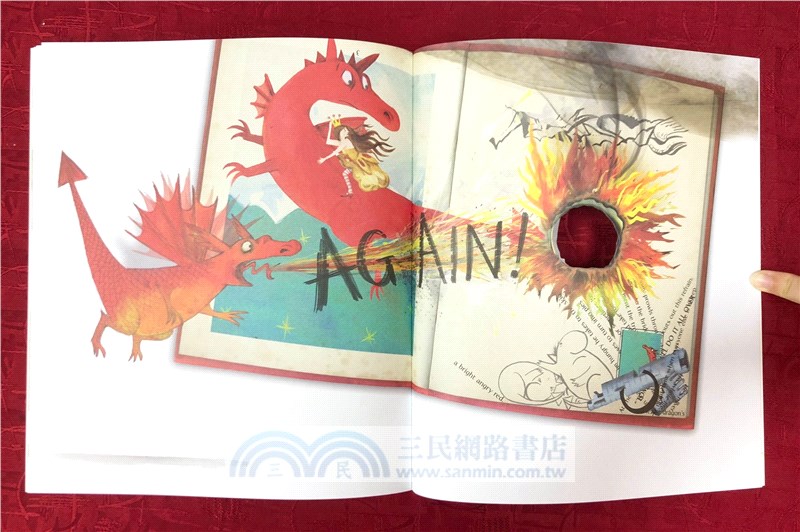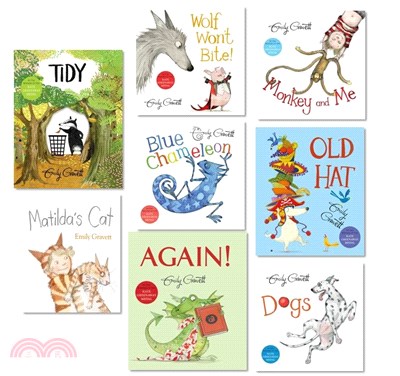 Emily Gravett Collection 8-book ziplog pack (8本平裝本)

ISBN13:9781529066586
替代書名:艾蜜莉.葛拉菲特創意繪本套書(8本合售)
裝訂:平裝
本數:8
出版日:2019/10/28
適讀年齡:學齡前
促銷優惠:外文館10週年慶
定 價:NT$3076元
可得紅利積點:27 點
庫存 > 10
9781509841264 Blue Chameleon
Chameleon can turn himself into anything and appear to fit in anywhere, but it seems that neither the swirly snail, the green grasshopper nor the striped sock want to be friends. Will he ever find someone to talk to? Someone just like him?
With a subtle and witty interplay between words and illustrations this introduction to colors and shapes (and chameleons!) is sure to delight kids of all ages.
9781509841257 Dogs
Gorgeous canines of every shape, size and colour are bounding through this irresistible book of opposites. Can you choose one dog to love best of all?
With playful pencil and watercolour illustrations to delight children and adults alike, everyone will long to bark along with the Chihuahua and tickle the Dalmatian's tummy. Emily Gravett has created another wonderfully satisfying book - with a twist in the tail.
9781447218623  Matilda's Cat
This delightful picture book with Emily Gravett's signature twist ending sweetly depicts the relationship between a child and her beloved pet.
Matilda is desperate to figure out what her cat will enjoy. She tries everything she can think of: climbing trees, playing with wool, even tea parties and dress-up games, but as Matilda gets more and more creative in her entertainment attempts, her cat moves from unimpressed to terrified. Will Matilda ever figure out what her cat likes?
In the style of Dogs and Monkey and Me, this young picture book from Emily Gravett is an insightful, fond, and funny look at the relationship between a little girl and her cat that's sure to strike a chord with anyone who's ever loved a pet.
9781509841288 Monkey and Me
Perfect for cheeky monkeys everywhere!
A mischevious little girl and her toy monkey swing irresistibly through the pages of this playful book. Children will love guessing the animals they pretend to be, before shouting out the answers as the pages are turned to reveal the real creatures. Soon everyone will be waddling like a penguin, jumping like a kangaroo and hanging upside down like a bat!
In a chunky board book format perfect for little ones.
9781509884728 Wolf Won't Bite
Take your seat in the front row and watch in wonder as three cheeky little circus pigs make a wild wolf jump through hoops (literally), endure feats of astounding derring-do, and even withstand perilous games of dress-up. Safe in the thought that "Wolf Won't Bite!" they even put their heads between his jaws ...but can you push a wolf too far? Sure to strike a chord with anyone who has both a pet and a young child, this is a very funny and playful story with a snappy ending!
9781447274001 Old Hat
Harbet had a hat. His Nana had knitted it for him when he was little.
Harbet likes his comfy knitted hat, but the others keep jeering at him – OLD HAT! OLD HAT! No matter what headwear he buys – be it a towering fruit platter hat, an old-boot-on-the-head hat or a brightly lit traffic cone hat, Harbet cannot keep up with the latest fashions. As soon as he gets a brand new hat it is already an . . . OLD HAT! It seems that Harbet will never fit in. But when one day he decides to go his own way, Harbet discovers just how much more fun it is to stop following others and think for yourself.
A very funny, charming story all about the futility of fads and the joy of finding your own style, full of brilliantly inventive hats for children to spot. Old Hat! is a fresh, colourful and punchy book from the creator of Wolves, Dogs and Tidy and twice-winner of the Kate Greenaway Medal, Emily Gravett.
9781509836598 Again
A little dragon and his favorite book make for a combustible combination in this clever picture book with a surprise ending.
It's nearly Cedric the dragon's bedtime, and for Cedric, bedtime means storytime! When his mother reads him his favorite book, he likes the story so much that he wants to hear it again…and again…and again!
Cedric's mom understands that the best stories are ripe for repetition, and she tries very hard to be patient. But sometimes dragons will be dragons—which is why this bedtime tale ends with an incendiary surprise!
9781447273998 Tidy
From the creator of Meerkat Mail and Dogs, comes a very funny rhyming woodland story about the perils of being too tidy.
Pete the badger likes everything to be neat and tidy at all times, but what starts as the collecting of one fallen leaf escalates quickly and ends with the complete destruction of the forest! Will Pete realise the error of his ways and set things right?
Lush foliage and delightfully funny characters abound in this dramatic tale of overzealous neatness that delivers its message of environmental preservation with subtlety and humour. The freshness and vibrancy of the illustrations, the endearing charm of the animal characters, and the many deft comic details throughout make this a very special book. With a sumptuous double-sided jacket and a breathtaking series of die-cuts from the cover through to the title page, once you enter this forest, you'll never want to leave.
Emily Gravett's engaging woodland creatures will appeal to fans of such classics as The Animals of Farthing Wood and The Wind in the Willows and the rhythmic, rhyming text is perfect for reading aloud.
Emily Gravett was born in Brighton. She left school with few qualifications and spent 8 years living on the road (in a variety of vehicles including a truck, caravan and RAF petrol bus called Toby Diesel) before settling back in Brighton and getting a place on the BA(Hons) Illustration course at Brighton University.
Her first picture book WOLVES was published in August 2005 to great acclaim, winning the CILIP Kate Greenaway Medal and a clutch of other awards it marked the beginning of a stellar career creating extraordinary books for children.
購物須知
為了保護您的權益,「三民網路書店」提供會員七日商品鑑賞期(收到商品為起始日)。
若要辦理退貨,請在商品鑑賞期內寄回,且商品必須是全新狀態與完整包裝(商品、附件、發票、隨貨贈品等)否則恕不接受退貨。
外文書商品之書封,為出版社提供之樣本。實際出貨商品,以出版社所提供之現有版本為主。部份書籍,因出版社供應狀況特殊,匯率將依實際狀況做調整。
無庫存之商品,在您完成訂單程序之後,將以空運的方式為你下單調貨。為了縮短等待的時間,建議您將外文書與其他商品分開下單,以獲得最快的取貨速度,平均調貨時間為1~2個月。