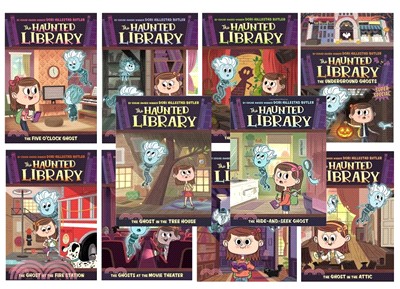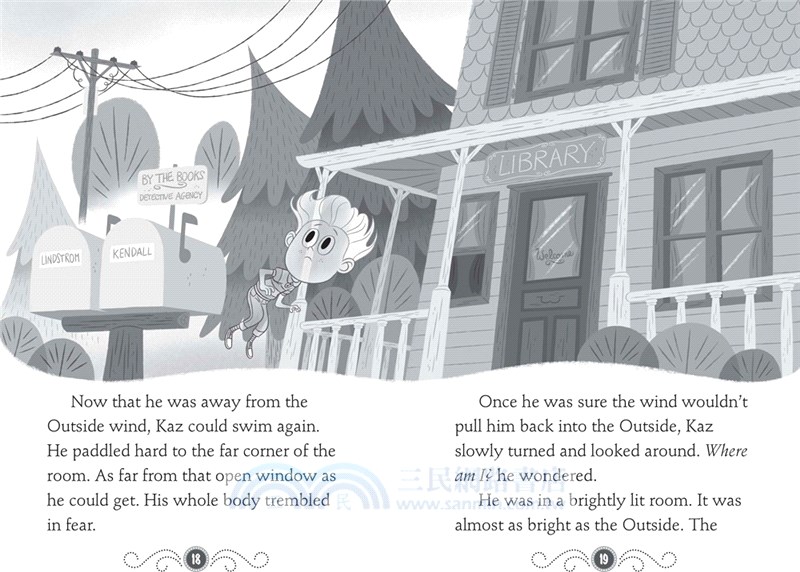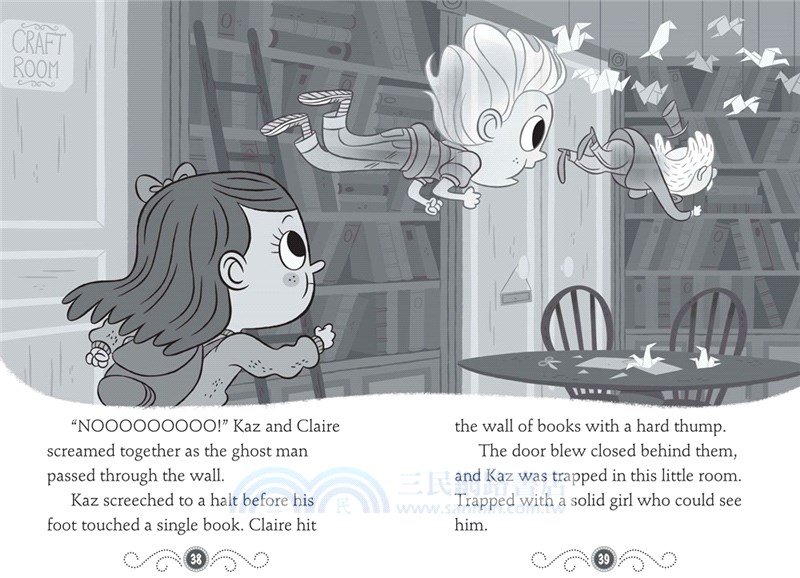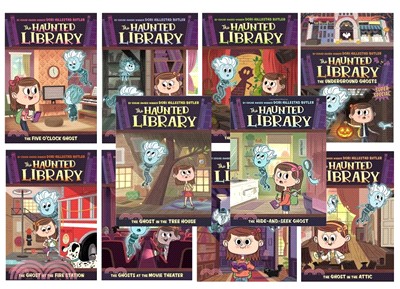 The Haunted Library series (共10本)

系列名:Haunted Library
ISBN13:9784440260194
裝訂/頁數:平裝/128頁
規格:19.1cm*12.7cm (高/寬)
本數:10
出版日:2017/08/15
適讀年齡:小學
藍思閱讀分級: 520LL
定 價:NT$2485元
可得紅利積點:58 點
無庫存,下單後進貨(等候期約30-45個工作天)
The Haunted Library (Haunted Library #1) 9780448462424
When ghost boy Kaz's haunt is torn down and he is separated from his ghost family, he meets a real girl named Claire, who lives above the town library with her parents and her grandmother. Claire has a special ability to see ghosts when other humans cannot and she and Kaz quickly form a friendship. The two join forces to solve the mystery of the ghost that's haunting the library. Could it be one of Kaz's lost family members?

The Ghost in the Attic (Haunted Library #2) 9780448462448
After successfully solving the mystery of the ghost in the library, Kaz and Claire land the first case for their detective agency—a haunted attic in a neighbor's home! With a little help from Grannie, Kaz and Claire discover that what appeared to be something spooky has a much simpler explanation.

The Ghost Backstage (Haunted Library #3) 9780448462462
Kaz and Claire's new detective agency is a success! Their latest case, though, is proving to be the hardest yet. When Claire's classmate says he saw a ghost backstage while rehearsing the school play, Kaz goes to school with Claire to investigate. From the description the boy gave, Kaz is sure it's his mom—but where has she gone? Kaz and Claire search everywhere and find no trace of her, but the mysterious ghostly activities are still happening…

The Five O'Clock Ghost (Haunted Library #4) 9780448462486
Kaz and Claire are called in for another ghostly mystery, and this ghost is always right on time. When Claire's friend tells the young detectives about his five o'clock ghost, Kaz wonders if it could be his own missing brother, Little John. Kaz and Claire search the house up and down, but they can't find any trace of Little John--or any other ghost. Yet when five o'clock comes along, the strange occurrences come back again...

The Secret Room (Haunted Library #5) 9780448483320
Now that Kaz can finally pass through walls without feeling all skizzy," he can go explore Beckett's secret room at the back of the library. What he finds there is a mystery he never expected!

The Ghost at the Fire Station (Haunted Library #6) 9780448483344
With a lot of searching and a lot of luck, Kaz has found his dog Cosmo, his little brother Little John, his grandmom, and his grandpops. But what about his parents? Or his big brother Finn? Will he ever see them again? Kaz wants to keep looking for his family, but when Claire hears about a ghost at the fire station, Kaz knows it's a case for C & K Ghost Detectives!

The Ghost in the Tree House (Haunted Library #7) 9780448489407
A group of girls in Claire's town have noticed strange sights and sounds coming from the tree house where their club meets. Is it a rival boys' club trying to scare them away? Or is it a ghost? The girls ask Claire to tackle the mystery—and Kaz hopes to finally find the rest of his missing family members!

The Hide-and-seek Ghost (Haunted Library #8) 9780448489421
Kaz are Claire are called on for another case! A family thinks their house is haunted, making it difficult for them to sell it. Will Kaz and Claire be able to figure out what's going on, and find more of Kaz's family members along the way?

The Ghosts at the Movie Theater (Haunted Library #9) 9780451534354
Kaz are Claire are on the case again—this time, they're looking for Kaz's long-lost uncle! Their search takes them to a bakery and a movie theater. Along the way, they meet another kid ghost detective. Will Kaz and Claire be able to figure out what's going on?

The Underground Ghosts ─ Super Special (Haunted Library #10) 9780515157116
It's almost Halloween, and Kaz and Claire are off to Seattle to visit Claire's cousins. They explore the local library...and find a ghost living there! The ghost's family has been missing, so Kaz and Claire decide to investigate. When they discover ghostly activity in the city's subterranean passages, they put their detective skills to work. Kaz and Claire are on the case!
Dori Hillestad Butler's books have appeared on children's choice award lists in 18 different states. Trading Places with Tank Talbott won the Maryland Children's Choice Award in 2007. And The Buddy Files: Case of the Lost Boy won the 2011 Edgar Award for Best Juvenile Mystery. Dori has also been a ghostwriter for the Sweet Valley Twins, Unicorn Club, and Boxcar Children series, and a children's book reviewer for several publications. She's published numerous short stories, plays, and educational materials, and has served as the Iowa Society of Children's Book Writers & Illustrators' Regional Advisor. She grew up in southern Minnesota and now lives in Coralville, Iowa, with her husband, son, dog, and cat. She visits schools and leads writing workshops all over the country.
購物須知
為了保護您的權益,「三民網路書店」提供會員七日商品鑑賞期(收到商品為起始日)。
若要辦理退貨,請在商品鑑賞期內寄回,且商品必須是全新狀態與完整包裝(商品、附件、發票、隨貨贈品等)否則恕不接受退貨。
外文書商品之書封,為出版社提供之樣本。實際出貨商品,以出版社所提供之現有版本為主。部份書籍,因出版社供應狀況特殊,匯率將依實際狀況做調整。
無庫存之商品,在您完成訂單程序之後,將以空運的方式為你下單調貨。為了縮短等待的時間,建議您將外文書與其他商品分開下單,以獲得最快的取貨速度,平均調貨時間為1~2個月。